Cuisinart's models are among the most popular 4 slice toasters out there. Their Compact model is light and looks very elegant, especially thanks to its stainless steel accents.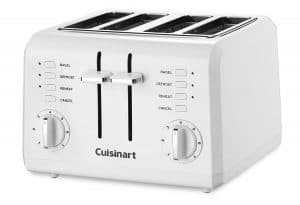 What about performance? It toasts all types of bread and pastry, allowing you to switch between seven different browning levels using its shade settings. It even defrosts, but it's without a doubt best at toasting bagels. To top it all off, you can even use it to prepare two different kinds of toast at the same time.
Since it has extra wide slots, you can use this toaster with any type of bread or pastry. When you're finished, use the HI Lift lever to remove the food using your fingers. When you want to clean the device, simply slide out and wipe its crumb tray. If you don't like the sight of cords, use the cord wrap to hide them with ease.
There are only two downsides to using this toaster.
If your kitchen is on the small side, you might find it too big. Also, users report they sometimes get their bread and pastry unevenly toasted.
Features
Stainless steel parts
3 toasting functions
Separate toasting controls
5-inch slots
HI Lift lever
7 shade settings
Removable crumb tray
Cord wrap