Many reviewers gush "gorgeous" to characterize the Cuisinart Copper Stainless Steel 11-Piece Cookware Set.
Expert chefs to novice cook will love using this cookware.
We could tell why:
This cookware elevates the craftwork of culinary experts and improves the skills of newbies. People genuinely enjoy preparing meals with this set–it makes cooking fun!
But wait, there's more…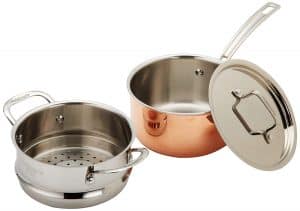 The Cuisinart Copper Stainless Steel 11-Piece Cookware Set is sturdy and long-lasting.
Some consumers reported to have had this set for more than a decade.
Its triple-ply construction of a stainless-steel interior, an aluminum core, and a copper exterior produces even and rapid heating and prevents scorching.
You should know…
As with other copper cookware, we encountered conflicting views.
Some people love and expect the metal's changing colors due to age and exposure while others want the copper to remain pristine (and realize they must put in the work to maintain it).
Some users find pieces in the Cuisinart Copper Stainless Steel 11-Piece Cookware Set easy to clean while others don't.
This set's lids are thin for some and just fine for others.
A few negatives
The handles can get warm. A couple of people followed the product's cleaning directions but still can't remove stains.
To a few users, the copper exterior seems to come off during regular use (e.g., cooking and washing). A common complaint when dealing with copper cookware.
Finally, several people note when the set arrived new, it was already warped, scratched, and/or even appeared used.
Luckily…
The set comes with a lifetime warranty.
Features
Includes 1.5-quart saucepan with lid, 2.5-quart saucepan with lid, 5-quart sauté pan with helper handle and lid, 8-quart stockpot with lid, 8-inch skillet, 10-inch skillet, and 18-centimeter steamer insert
Stainless interior
Aluminum core
Copper exterior
Oven safe up to 500℉
Broiler and freezer safe
Solid stainless handles
Lifetime warranty
Here's Where Things Get A Little Murky…
The next five items are highly rated on Amazon, but in our research, we couldn't find specific details about their copper content.
The manufacturers of these five non-stick cookware sets aren't clear on exactly how copper is used in their structures.
Is it a layer within the core or on the bottom?
It's just too unclear to be sure.
Terms like "copper-infused" are vague and raise questions about the amount of copper used and how it's incorporated in the cookware's body.
With that in mind, we rated these sets below the copper cookware sets listed above because we don't know how much copper they actually contain.
We advise caveat emptor:
Let the buyer beware.
If making sure your pots and pans have all the copper properties you're looking for is a priority for you, we recommend you limit your search to the selections above, as they have been tested and proven to contain copper.
That being said, we're contacting the manufacturers to clarify their products copper content and will update this as we learn more.
Stay tuned!