Like the Cricut Explore Air 2, the original Cricut Explore Air Wireless Cutting Machine is addictive, conveniently portable, and fun to use.  Flexible and versatile, this machine can slice through more than 60 types of media, including cardstock, vinyl, vellum, leather, fabric, balsa wood, and more. DIYers love creating projects with this cutter that "brings ideas to life."
The machine comes with a cutting mat, a German carbide premium blade, a metallic silver pen (for writing), and materials for conducting a test run project and practicing using the blade in conjunction with the pen. In addition to cutting and writing, it can score (with a stylus, sold separately) and emboss.
Speaking of using the blade with another tool…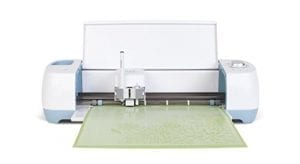 The Cricut Explore Air Wireless Cutting Machine's dual cartridge holds the main blade ? and the pen ? (or stylus) to allow a seamless and efficient shift between cutting and embellishing a project in one go. Users like not without having to switch back and forth between tools manually. Nonetheless, they still need to switch out and replace blades and pens with new ones as needed due to use over time.
The included cutting mat seems "way too sticky" for some people, yet loses its stickiness quickly for others. In order to help a mat's adhesiveness last longer, one user suggests replacing the mat's protective plastic sheet soon after each use.
In terms of set-up and use, the Cricut Explore Air Wireless Cutting Machine elicits decidedly contrasting opinions. A few users find set-up "a breeze" and quick. Utilizing this creative tool is "easy to figure out." One person even set up the machine, its app on an iPad, and the software on a laptop and finished a sample project in under ten minutes!
However
Many others describe a steep learning curve. The instruction manual is only available online. Also on the manufacturer's website are a tour of the machine as well as many helpful instructional videos. One Cricut Explore Air Wireless Cutting Machine veteran reassures future users that with patience and much YouTube tutorial viewing, learning to use the "complex" machine is doable and "you can get things done."
The Cricut Explore Air Wireless Cutting Machine slices precisely. No white borders around designs are left showing and intricate designs are cut well. Some people report when smaller details are cut, the project tends to get a little "messy," "chewed-up," or torn–this also may be caused by a dull blade. Although a few owners find the machine "slow and loud," many are fine with its speed (slower than the Cricut Explore Air 2) and think it operates quietly.
As with the Cricut Explore Air 2, many crafters dislike that the Cricut Explore Air Wireless Cutting Machine must be online in order to work. In order to access its online software–Cricut Design Space– the cutter itself must be connected to the manufacturer's website where the software is housed.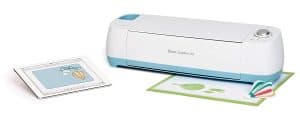 Therefore,
Because the design software is web-based, when the manufacturer's site's down you can't simply pull up and work on projects. Users in locations without a reliable internet connection may be out of luck at times. Despite the manufacturer's claim that the cutter has an offline mode where users can download images and projects to use when offline, many people wish the cutter was a "stand-alone" desktop product.
Circuit Design Space comes with many free fonts and images for crafters. One user notes that a search for an image must include exact words found in the image's Iabel; an option to search by theme would be good to have. Although very good for some, Cricut Design Space is described as "a pain" by others.
Mo' money…?
The first month of Cricut Access (a subscription that provides a much wider range of fonts and images) is free but costs several dollars per month after the first month. Some crafters find the free selection plentiful. Others, however, either balk at the monthly fee and refuse to subscribe. Finally, there are users find the monthly fee worth it "because there's so much available.".
Try this
More than a few users suggest skipping the subscription and simply purchasing a single image from Design Space for a dollar or so when needed. In addition, because they can upload their own images, they may not feel the need to subscribe to Cricut Access. In fact, one person finds the ability to use her own designs a large selling point for the Cricut Explore Air Wireless Cutting Machine.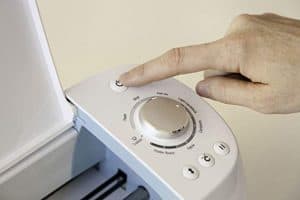 Imagine the freedom
Users love the Cricut Explore Air Wireless Cutting Machine's convenient Bluetooth wireless technology. This allows crafters to work on projects on the go and from a different location. Imagine sitting on the couch ? in one room working on your mobile device to create a design before sending it to your cutter in another room.
Think about it
One interesting point that two users bring up is that the Bluetooth wireless technology isn't vital to the cutter's overall use, at least not to them…because they need to be near the cutter in order to feed in project materials anyway! We assume that the above example (i.e., sending a project from the couch another room) applies to a preloaded cutter.
Some people raved about the customer service while a few rated it mediocre to poor and unhelpful. ?
To hear more about and see a demonstration of the Cricut Explore Air Wireless Cutting Machine, watch this review.
Features