Many Cricut Explore Air 2 owners are quite attached–"in love with," "obsessed with", "addicted"–to this machine. One person jokes that it's a "homewrecker" and that he'd be divorced if it vibrated.
All kidding aside...
Able to cut leather, paper, cardstock, vinyl, glittery paper, polished foils, bonded fabric, balsa wood and more, this versatile tool opens up endless possibilities for creative and DIY projects. A large drawback is the need to spend to more money in order to purchase supplies. Despite expenses, nonetheless, most users believe the Cricut Explore Air 2 is a good investment.
Why?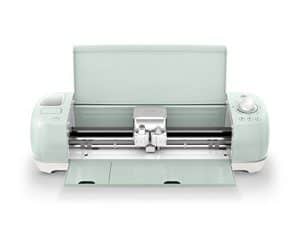 The machine comes with a cutting mat, a German carbide premium blade, a black pen (for writing), and materials for conducting a test-run project and practicing using the pen in conjunction with the blade. Users like the Cricut Explore Air 2's multi-functionality. In addition to cutting and writing, it can score (with a stylus, sold separately) and emboss.
While conveniently included, the cutting mat seems to lose its stickiness pretty quickly for the overall price. One person advises future users to save the mat's clear plastic shipping cover and stick it back on the mat after every use preserve the tackiness.
Inside are two compartments for holding accessories and a magnetic strip for grasping extra blades. The top has a cup-holder-like area for stashing pens or tools.
The Cricut Explore Air 2 earns mixed reviews in terms of ease of set-up.
On one hand ?
As with many vinyl cutters, this model doesn't come with hard-copy (paper) instructions; the manual is only available online. Some new owners find setting up and learning how to use the machine "easy" and "intuitive" with "simple" online instructions as well as helpful videos on the manufacturer's site, such as a tour of the Cricut Explore Air 2 model.
On the other hand ?
Other users concede that while the instructions are good, they warn that new owners may need to set aside time and patience to get a grasp on the machine. One person writes that it took two days (three hours each day) to learn the model's features and different designs…but the final product looked so professional that the time and effort were worth it. There is a "steep learning curve" ?and lots of YouTube video searches and watching!
Nonetheless
In terms of cutting quality, the Cricut Explore Air 2 is accurate "with surgical precision." It automatically selects proper setting when you tell it what material is being sliced. When cutting intricate designs, the machine can be "slow but accurate." If accuracy is what you want, great. If you need speed, no problem–simply switch to "Fast Mode" via the machine's software. The "Fast Mode" is designed to cut and draw twice as fast.
Some users observe that over time, the cuts become less precise, "sloppy", and off center. A few grumble about the machine's loud operation and many dislike that the machine must be online in order to work.
In fact
A major complaint is the machine's requirement of a constant good and reliable internet for operation. In other words, the Cricut Explore Air 2 must be connected in order to access its online software, Cricut Design Space (more on the software itself later). This condition doesn't work well for users in places without a reliable internet connection. ☹
Listen to this: ?
In fact, we read much feedback about the machine stopping in the middle of a project when, for any reason (i.e., weather, iffy WiFi, etc.), it disconnects from the web. Despite the manufacturer's claim that the cutter has an offline mode where users can download images and projects to use when offline, many people wish the machine could have a "stand-alone" program to cut without having to online.
Here's the reason
The Cricut Explore Air 2 needs to be connected to the internet in order to work because software, Circuit Design Space, is housed on the manufacturer's website. Circuit Design Space comes with many free fonts and images for crafters. Crafters also can upload images. Also, all designing work by the user is conducted online in Circuit Design Space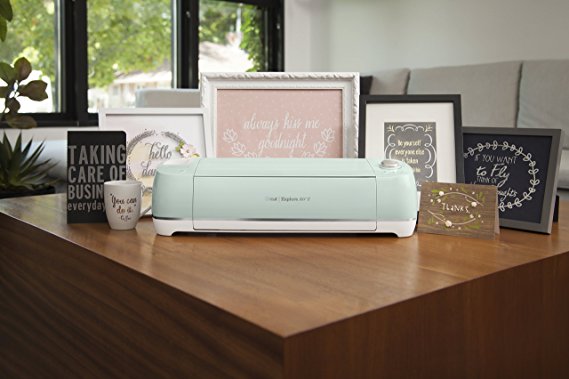 So what does this mean?
Many people are fine with this arrangement; some, on the other hand, dislike this set-up because 1) you need to be online to access your chosen designs in order to cut, draw, etc., 2) your designs reside on the manufacturer's server, 3) you don't have your own backup copy of a design, and 4) you can't export designs for use in another program. Although highly useful to some, Cricut Design Space is described as "limited," "inflexible," and "slow" by others.
To spend or not?
The first month of Cricut Access (a subscription that provides a much wider range of fonts and images) is free but costs several dollars per month after the first month. ?Some users find the number of free fonts and images sufficient for their purposes. Others, however, either resent the monthly fee and refuse to subscribe. Finally, there are users willingly pay the monthly fee if access is worth their needs.
Here's an idea?
More than a few users skip the subscription and simply purchase a single image from Design Space for a dollar or so when needed.
Feel the freedom
A feature that people do agree on is the Cricut Explore Air 2's convenient Bluetooth wireless technology. This allows crafters to work on projects while physically away from the machine itself, sometimes on the go.
Some owners have experienced excellent customer service while others encountered poor customer service. ?
To learn more about the Cricut Explore Air 2, watch this informative introductory video.
Features