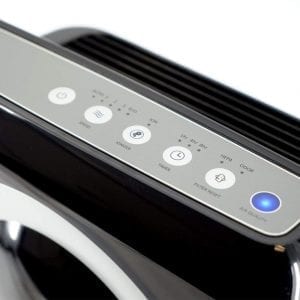 More and more air purifiers are using smart sensors to let you stay on top of your air quality and make hands-free adjustments. What's special about the Coway AP-1512HH is that it's one of the most affordable ways to get these features. At just over two hundred bucks, it's priced to fit into any budget, with a compact design and easy operation that will fit into any lifestyle.
The operation of the Coway AP-1512HH is comparable to air purifiers that sell for twice as much or more. It has a coverage area suitable for medium rooms and uses a 4-stage filtration system, with both true HEPA and active carbon filters. It's also about average in terms of its noise—quiet enough to sleep through on low settings and about as loud as an air conditioner when you turn the fan up.
This is a compact little model, too, designed to fit just about anywhere. It only needs about a foot of space on a side for airflow and runs quietly enough at night you can put it at your bedside. With features like Eco Mode and Auto Mode you'd expect to find on more expensive models, it's definitely one of the best values on the list.
Features:
17" X 9.5" X 18"
12 pounds
Coverage area up to 361 ft2
Filters: Carbon, True HEPA (buy pack)
Filter Life: 6 months (carbon), 12 months (HEPA)