Folding, portable, safe, comfortable and easy to maintain.
It certainly sounds like you shouldn't look any further.
But, is that really the case?
Let's find out.
For starters, we'll praise the build of this product, starting from the bottom.
The legs of this basin tub are made out of no-slip materials, so it's good for safety.
Moreover, the fixture is pretty large, so enough room for your baby at any stage of their development.
Here's another thing we liked: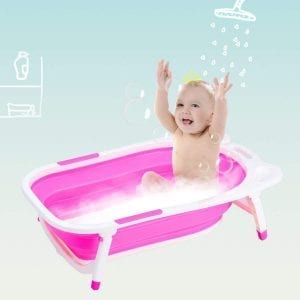 You get a basin with a lot of ergonomic surfaces, making bath time as comfortable as possible for your loved one.
Since we know safety is an important issue…
Let's look at a special feature of this product: the base material.
Costzon's product is advertised as being made out of PP+TPR. This stands for Thermoplastic Rubber, which is a special material that's non-toxic and odorless.
Don't misunderstand!
In perfect condition, all baby tub materials are non-toxic, but this one specifically makes sure you don't have to worry about deterioration over long periods of time.
Worried about drying and cleaning this tub?
Don't stress it.
Under the basin, you'll find a plug that flushes out all the water, making it easy to dry and scrub afterwards.
Since we're talking about your comfort, you'll be pleased to know this beauty is foldable, making it way easier to throw it in the trunk when traveling.
Where's the catch?
Issues are not hard to come by when you do your research, and this is what we came up with.
First of all, you'll have a hard time using this product if you want to set the legs at their steepest incline.
They don't hold up so well at that setting, and if your baby is on the heavier side, with significant water to sustain, the tub runs the risk of breaking.
Now, we didn't encounter this issue.
But a customer did.
Their little one was fine, but this is a risk that sets Costzon's product back quite a bit.
Secondly...
The legs are non-slip, but parts of the basin can get slippery, so you also have that to worry about.
Features:
Basin bath tub
Ergonomic design
Easy to maintain