If you're in search of a reliable companion for outdoor fun, the CORE 6 Person Instant Cabin Tent is an excellent choice.
Nowadays, so many tents have the word "freestanding" attached to them, but it turns out they're not really freestanding, after all.
Imagine the shock when you're in the great outdoors, and you realize your tent doesn't do the job.
How would you feel?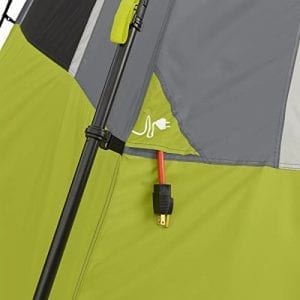 The CORE 6 Person Instant Cabin Tent really is a freestanding tent.
You can pitch it anywhere you like.
One of the best things about it is how extremely easy to handle this bad boy is.
You can actually pitch it in a matter of minutes!
How's this possible?
Well, it all comes down to the construction.
The CORE 6 Person Instant Cabin Tent is built in such a way that it can be set up – instantly.
Yes, instantly!
Some users have compared the functioning of this tent to an umbrella. There is no complicated set-up involved, you just unfold it – and every part of it finds its place right away.
An absolutely brilliant concept.
The tent poles don't need to be positioned by hand, because they're already there. As you as you unfold it, the CORE 6 Person Instant Cabin Tent is ready for use.
This feature is great for those not that experienced when it comes to pitching tents.
After all…
Many people don't even want to learn how to set up a tent, they just want to enjoy their camping trip.
What's with the name?
Is this a cabin or a tent?
There's a reason why this tent has the word "cabin" attached to it. It's designed like a cabin, to offer a lot of room to the users. It has a D-style door, which makes entry and exit very easy.
It's also tall and cozy.
The walls are positioned at a steep angle, but there's more than enough room inside to feel comfortable.
As for the accessories, it has a gear loft and a lantern hook. Both of which come in handy. There are also several mesh pockets, where you can store your belongings, and a rainfly.
Another great addition…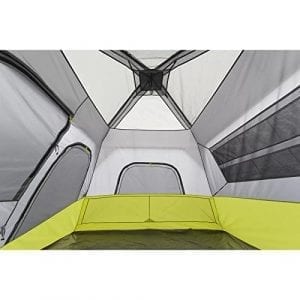 The wall port for electricity.
So, if you're staying at a campsite with electricity, the wall port's got you covered. Now we're glamping!
How cool is that?
The ventilation is good, aided by ample wall openings and a mesh ceiling.
However…
There are certain drawbacks.
What most users complained about is there's no vestibule.
So, if you want to store your gear, or bigger equipment, there is no place for that.
Also…
The tent has only one door. Most people are okay with this, but if you like your tent to have more than one door, this isn't the one for you.
Features
freestanding
D-style door
rainfly
gear loft
lantern hook
wall pockets
electricity wall port)
ceiling vent (mesh)
1-Year Limited Warranty (returns are accepted within 60 days after the original purchase date). more information to be found here.