Cordoba's main claim to fame are classical guitars made in the Spanish tradition, but they also apply their master luthier skills to ukuleles of all sizes. The 15CM is an affordable way to bring one of these well-crafted instruments into your own home.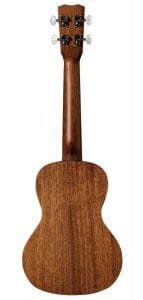 The Cordoba 15CM uses traditional materials and aesthetic accents. It's built with mahogany laminate for the body and neck, with rosewood for the fingerboard and bridge. The satin finish accents the natural wood grain. The visual appeal is enhanced by the abalone inlay around the soundhole, white binding, and pearlized tuning pegs. The combination is an instrument that both looks and sounds stage-ready. This makes it appealing as a travel, back-up, or doubling option for professional musicians.
The attention to detail really makes this ukulele perform above its price-point. The mahogany used in the construction is quartersawn, a technique that gives the tonewood more strength and rigidity, improving its tonal balance and dynamic projection. Each instrument is constructed by hand from top to bottom. This means these instruments will be more consistent and durable compared to other entry-level models, which are mass-produced in order to lower costs.
This quality of craftsmanship extends to the hardware. The geared chrome tuners keep the instrument well in tune. The rosewood bridge is well-positioned, resulting in action that's not so low it buzzes but not so high it strains a beginner's fingers. Even the Aquila Nylgut 7U strings that come installed are an upgrade over what you'd expect to find on a beginner ukulele. Top to bottom, you'll be very pleased with the way this particular instrument feels in your hands.
The included starter kit doesn't contain as many extra accessories as other options on this list but it gives you everything you need to get started playing. This includes a soft-sided gig bag, a polishing cloth, a clip-on digital tuner and an instructional DVD to help you get started. Considering the price, it would be good even if you only got the instrument. You certainly won't feel jipped by what you get in the package.
Specs at a glance:
Weight: 1.9 pounds
Body/neck: Mahogany
Fingerboard: Rosewood
Bridge: Rosewood
Nut/saddle: Composite
Hardware: Geared chrome with pearl buttons
Included in the box: Gig bag, clip-on digital tuner, polishing cloth, instructional DVD