People like the Copper Pan 10-Piece Set Luxury Induction Cookware Set because it looks "beautiful," cooks food evenly, and "cleanup is a breeze".
As with many nonstick products, in the beginning this set's nonstick cooking surface works well, with eggs and potatoes sliding right off. However, after a few months, some users frustratingly report whatever they cook sticks to the interior.
Also,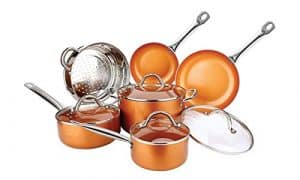 We found mixed reviews on the set's efficacy on induction stoves.
While some people successfully use this cookware on induction cooktops, a handful of others have had poor luck with it working on induction stoves and hotplates.
Two customers note the pots are warped so:
The lids don't fit, and
The pans don't sit evenly on induction surfaces, which prevents complete direct contact between the pot and induction stove… which thus impedes the induction heat process.
Questions, questions, questions…
Finally, many users reported the nonstick surface, described as "ceramic coating infused with copper", scratches easily and peels. We couldn't find an actual manufacturer for this product, just that its primary seller is TV Direct LLC.
Therefore, we couldn't verify its copper content or any warranty information.
Features
Includes 8" frying pan with lid, 1.5-quart saucepan with lid, 2.5-quart saucepan with lid, 6-quart casserole pan with lid, and stainless steel steamer
Non-stick ceramic coating infused with copper
Induction base
PFOA free and PTFE-free
Pans: oven safe up to 550°F
Glass lids: oven safe up to 350°F
Dishwasher safe
Compatible with gas, electric, ceramic, and induction stoves
Manual included