Consumers love the Copper Chef Cookware 9-Piece Round Pan Set's appearance and performance. People have purchased this set in the past for themselves or given it as a gift because the pieces are "beautiful", lightweight, and efficient. They also cook food quickly and efficiently as well as clean up easily.
We have good news!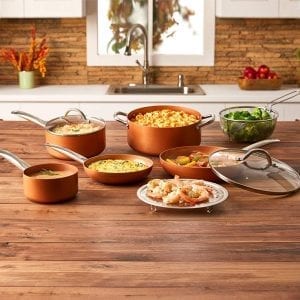 Best of all, users (except one) find the Copper Chef Cookware 9-Piece Round Pan Set is truly nonstick, even after months of use. One person reports food like scrambled eggs and grilled cheese just slides off the pan after cooking.
But…
Only two of the five pots and pans come with a lid.
The smallest pot doesn't work well on an induction stove like the larger pieces do.
And, although it is lightweight, the cookware seems thin and easily warps.
The nonstick coating scratches easily with metal utensils; a few owners were surprised that even silicon utensils scratched the coating. A few others report the coating wore off or chipped around the rims, even with hand washing.
What's the deal?
We spotted this question on the Copper Chef website: "Are the Copper Chef Round Pans actual copper?".
The answer was simply that these pans are aluminum with copper-colored Cerami-Tech Non-Stick coating.
To us, this reply doesn't explain how much copper (if any) is contained in the coating.
One thoughtful Amazon customer mulled over this interesting issue and concluded the cookware's low price probably meant it doesn't contain actual copper. The reason for the Copper Chef name may simply come from the copper-colored enamel exterior coating, which doesn't tarnish like real copper does.
Features
Includes 5.8-quart casserole pan with 10" lid, 2.8-quart saucepan with lid, 1-quart saucepan, 10" frying pan, 8" frying pan, 9" x 3.5" frying basket, 9" round steamer tray
Cerami-Tech non-stick outer coating
Aluminum core
Built-in stainless steel induction plate on bottom
PTFE-free and PFOA-free
Heat proof up to 850°F
Oven safe up to 850°F
Limited lifetime warranty