The stylish and smooth-looking Concord Copper Cookware is described as "gorgeous" and "beautiful".
But, it's not just a pretty face!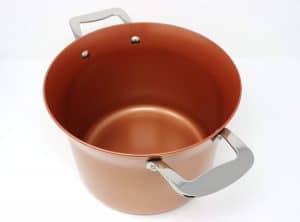 This lightweight yet sturdy set heats food fast and evenly. This cookware offers ease of cooking without additional oils or cooking spray as well as ease of cleanup.
Nevertheless…
Many users state the smallest piece, the 1.5-quart saucepan, doesn't work on an induction stove.
Several others report the nonstick surface scratches after few weeks and chips easily even when they use silicone utensils or wash the cookware with a soft cloth.
A few people received the Concord Copper Cookware in packaging in poor condition (e.g., dented boxes) which resulted in scratched or dented new items.
But what's the real deal?
How much copper does the CONCORD 8-Piece Ceramic-Coated Copper Cookware actually contain?
It has a ceramic coating, but what metals make up the cookware?
The manufacturer Concord Cookware states, "The base material of the body is made of cast aluminum. The handles are stainless steel." and "These are copper ceramic coated."
Unfortunately,
Neither of these statements really answers our question.
Features
Includes 1.5-quart saucepan (3" x 7"), 4-quart saucepan (3.75" x 9"), 8.5-quart Dutch oven (7" x 10"), one frying pan (2" x 9.5"), and four lids
"Copperamic" all-natural ceramic-based non-stick coating
Oven safe
Compatible with all types of stovetops
Dishwasher safe
Made in China
Refund policy: return within 30 days in new condition in the original packaging