Users rave over the Concept2 Model D, stating it sets the gold standard for rowing machines.
We found praises from a wide range of people: as short as 5'0", as tall as 6'8", new to rowing, advanced, with arthritic knees, and in their 60's and 70's.
It's solid with aluminum front legs and steel rear legs…and not small; one person warns you'll need about 9' x 4' of space to use it.
What's not to love?
The air resistance Concept2 Model D is quiet and smooth for an efficient workout.
Although not silent, it operates softly enough for listening to music or the television at a normal volume. It has an ergonomically designed handle and secure adjustable footrests.
The seat glides "like butter," producing sliding action crucial for completing continuous strokes. The seat draws a little criticism: it's firm and takes getting used to. Many users purchase seat cushions for padding.
Also,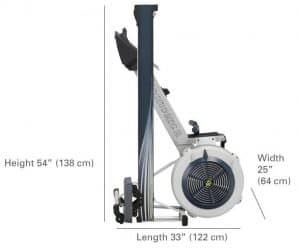 The easy-to-read performance monitor (PM5) that tracks stroke rate, calories expended, distance, pace, and watts displays large, backlit numbers.
It has many built-in programmable workouts and games to motivate exercisers. The PM5 is mounted on an adjustable arm for visibility during workouts.
User praise the Model D for being quick and easy to assemble. It disassembles into two pieces for rolling into storage.
In fact, processes of taking it apart and putting it back together are so simple some people store it after every workout and aren't dissuaded from setting it up and working out each time.
What's the catch?
The Concept2 Model Rowing Machine is pricey, but worth it as an investment in health.
Many users believe even though they spend a lot the erg, they save money on gym fees–not to mention travel time–and gain motivation to exercise on this high-quality piece of equipment.
A few last notes...
To care for this investment, be sure to clean the seat rail periodically to maintain its smooth gliding operation.
Also, oil the nickel-plated steel chain and vacuum the flywheel apparatus regularly.
This brochure details all of the rowing machine's features and online communities.
To witness the unboxing and a review of the Concept2 Model D with PM5 Performance Monitor Indoor Rowing Machine, watch this video.
Features
Overall length: 96" (244 cm)
Width: 24" (61 cm)
Seat height: 14" (36 cm)
Seat rail length: 54" (137 cm)
Space recommendations

when assembled: 8' x 2' (244 cm x 61 cm)
with clearance for use: 9' x 4' (274 cm x 122 cm)
for storage: 25" x 33" x 54" (63.5 cm x 83.8 cm x 137.2 cm)

Weight: 57 pounds (26 kg)
Maximum user weight capacity: 500 pounds (227 kg)
Partially enclosed chain/cord housing