This Class 2 laser product with an output of less than 1mW features a self-leveling cross line laser that works best for day to day household uses like setting up small tiles in kitchen, setting up a wall mounted TV or a picture frame - the product is perfect for home improvement enthusiasts!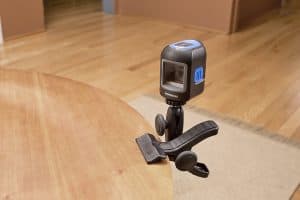 It has 3 laser level modes, horizontal, vertical and cross-line. The product also has the accuracy of +/- 1/4 inch at a range of 30 ft. The device comes with self-leveling technology, and self-levels when positioned inside 4 degrees of level, and the LED pointer turns red when it is out-of-level.
The product comes with an adjustable mounting clamp that easily attaches to a variety of surfaces to extend the utility of the product. However, the clamp has its drawbacks too as it is not suitable for tough-to-reach places. For difficult places, you have to buy an external tripod to set up the product in order to increase the applications of the unit.
Additionally,…
It comes with extra 2 AA batteries to get you started, and a standard User Manual that walks you through the features of the product and guides you how to get the best out the product.
The bottom line:
The product has received a lot of love for being one of the cheapest and handiest tools available in the market which comes with a cross line laser feature. A lot of home improvement enthusiasts have given positive feedback to this compact self-leveling laser level. Professional construction workers, however, frown at the lack of sturdiness of the product and the need to buy external stands and holders to keep it in place.
Features:
Projects bright lines; ideal for tile alignment, wall studding, windows, doors, etc.
Accuracy: 1/4 in. at a range of 30 ft.
Three laser-line modes: Level, Plumb, and Cross-Line
Self-leveling capability when within 4Degree of level
Includes easy to adjust clamp for multiple applications
Class 2 laser product, Output < 1mW