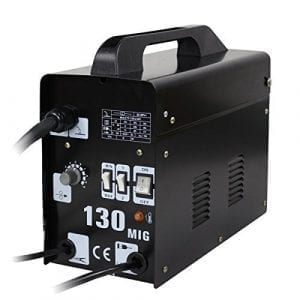 The Super Deal MIG130 Welder is an outstanding flux core MIG welder perfect for the occasional welder. It weighs only 38 pounds and is made of high-quality material making it easy to handle.
For a flux core welder, it doesn't get any better than this. It's extremely easy to use and can handle all the small jobs around the house or farm.
The wire speed is set automatically depending on the voltage settings and the overheat protection is handy in case you get carried away.
From experience, you should invest in a sound extension cord to prevent your breakers from popping.
Wait, there's more…
Another thing you should ensure while using this welder is that your joints are clean and the ground is set up properly. Otherwise, it will affect the quality of your weld, leaving a lot of spatter with little penetration.
To be honest…
It would be a good idea to invest in some nozzle gel. The mask included in the kit is also not of good quality, and you might want to invest in an auto-dimming helmet.
Features
Uses 0.030'' to 0.035'' flux-cored wire and 0.023'' to 0.035'' steel and carbon steel wires
Rated power voltage: 110 V at 60 Hz single phase with max open voltage of 37V and a welding current of 50-120 A
10% duty cycle at 105A and 35% at 60
Includes automatic thermal safety protection
Ideal for welding mild steel, stainless steel
User-friendly interface for easy set-up - comes ready to weld
Compact and lightweight design - weighs only 38 lbs
Package comes with a reel of 0.9mm, 0.55lbs welding wire, a mask and a chipping hammer, 2.5M Torch, two extra tips and ground cord.