Perfect for use during outdoor camping or indoor snoozing, the Coleman SupportRest Double High Airbed is sturdy and tall. In our research, we found it "really comfortable" and conducive to restful sleep for most users and even pregnant campers. Supportive and firm, this model is a "back saver" that won't "cave in" or turn into a "taco bed."
More mixed reviews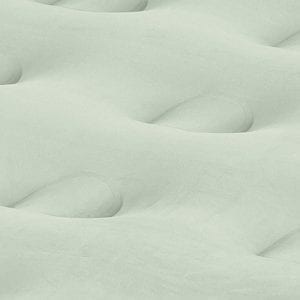 It has fine air retention and durability for some, but not for others. Positive reports include users who describe no leaking after sleeping on it for:
one month with constant use.
three months.
11 months and two weeks every night.
one year, occasionally by two people totaling around 550 pounds.
two years.
ten years.
Several owners concede that the Coleman SupportRest Double High Airbed loses a little air each night and needs be topped off after each use.
Negative experiences include users who discovered leaks (particularly along the seam) within
one night.
one week.
one month.
six months.
What it all boils down to is
Deflation seems quick because many people describe waking up on the floor in the morning. We're not sure how this model's customer service is because we found only two negatives and one positive report among hundreds of reviews, unlike the plentiful praise earned by other models reviewed.
The Coleman SupportRest Double High Airbed is quick and easy to inflate and deflate. This model doesn't include a pump (internal or external), so you'll need to purchase one, like the Coleman 12-Volt DC QuickPump.
Just remember
Do this before leaving on a camping trip or greeting guests.
Advertised as 18" in height, this mattress turned out to be 16.5 inches fully inflated for a few users. Nonetheless, we found only one complaint of this mattress' queen size not being large or standard-sized enough.
To see a Coleman SupportRest Double High Airbed owner's set-up, demonstration, and review, watch this video.
Features
Dimensions: 75" x 39" x 18" (twin); 78" x 60" x 18" (queen)
Maximum weight support: 300 pounds (twin); 600 pounds (queen)
One-year limited warranty