In our research, we found that users praised the Coleman SaluSpa Inflatable Hot Tub's sturdy construction. Made of puncture-resistant, tri-tech three-ply reinforced material, featuring a polyester mesh core encased in two layers of PVC, the tub is extremely tough, strong, and durable.
You won't believe this…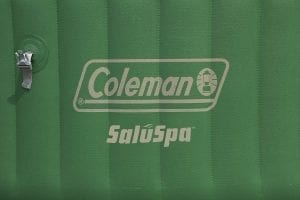 A 260-pound consumer we chatted with found he could sit on the tub's sides without the structure bending or buckling. We credit this to the walls' I-beam construction.
What a feeling!
But what users really like was Coleman SaluSpa Inflatable Hot Tub's convenience. It has an easy-to-use digital control panel with an automatic start/stop timer-controlled heating system.
Consumers in our focus group were impressed by the tub's powerful yet relaxing bubbles.
But they did have two complaints:
First, the water's temperature dips when the air jets emit bubbles. We also found this to take away from the overall user experience somewhat, but there are options to help the inflatable hot tub retain some heat. (More on that in just a second.)
Secondly, the bubbles were loud for some. During our testing, we did notice they made a louder noise than some of the other models on this list, but it was easy to tune out. That being said, if you're sensitive to sounds, this may not be the greatest inflatable hot tub for you.
The rigid walls are perfect for either leaning against or resting your neck on. Not to forget, it comes with an air-pad cushioned mat that sits underneath the spa.
What's so great about that?
In addition to providing comfortable padding under the bathers' bottoms, this mat helps with insulation and minimizes heat loss through the tub's base.
If you want to hold your drinks for yourself and/or guests, we recommend this cup holder or this even this entertainment and cleaning accessory set, which includes a music player and Bluetooth, two drink holders, and one tray. The entertainment and cleaning accessory set also contains three filters, a scoop, brush, and scrubbing mitt.
For a user's review of the Coleman SaluSpa (Lay-Z-Spa ) Inflatable Hot Tub, watch this video. According to the user manual (which you can download here), the warranty is as follows:
The limited warranty is valid as follows:
360 days for the heater pump from the original date of purchase
180 days for the pool liner from the original data of purchase
30 days for hoses, fittings, and accessories included in the package from the original date of purchase
Features
Dimensions (inflated): 77" x 28" (1.96m x 71cm)
Water capacity (80%): 254 gallons (963 liters)
Seating capacity: four to six adults
Weight (filled): 2,701 pounds (1,225 kg)
Weight (empty): 85.9 pounds
Maximum temperature: 104°F (40°C)
Number of air jets: 127