Our second portable option shares some similarities with the first, but Coleman built this one for the road. The aptly named Roadtrip 285 will take your grilling game to an all new level and has more burners than other mini grillers in this class.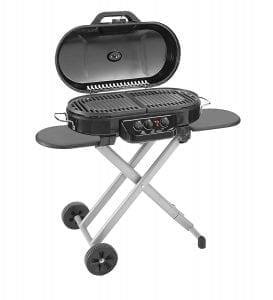 When you buy a small gas grill, there are usually a few drawbacks. The BTU and burners can be underwhelming, but not the on the RoadTrip 285. You'll get three burners with independent controls on this tiny wonder for a total of 20,000 BTU. You can go as low as 3,250 and have 285 square inches of space to work with.
The grating is in two pieces with built-in grease cards which direct the flow to the pan below. They tame the flames and will hold up well considering they're cast iron and covered in porcelain. You can also swap them out half or the entire plate for this griddle top. That's handy, and so is the wheeled convertible stand.
The metal stand allows you to wheel this grill wherever you roam. It collapses in seconds as well, so it's easy to store whether you stand it upright in corner or slide under a table when not in use. It's a good design overall from the cart to the sliding side tables. As usual, we wish the wheels were more rugged, but it's really our only complaint with the design.
The Coleman RoadTrip 285 does have a lower profile than the Weber and measures 30.2" x 19.2" x 16.1" with a weight of 46 pounds. It works off the standard 1 pound propane canister, but you can adapt it for use with larger tanks as well. Other features to note include a thermometer in the lid and an InstaStart ignition system.
While it's not the cheapest portable grill, the RoadTrip 285 is powerful and easy to move around. It's the perfect solution for seasonal grillers as well considering it won't take up much space when folded up and tucked away. The grill doesn't come with any extras, but you will get a user guide and a 3-year warranty.
Features
3,250 to 20,000 BTU
Three independent burners
285 square inch cooking area
InstaStart ignition