This ice chest uses Xtreme® technology to get the best insulation. With the insulated lid, and extra insulation in its walls, Coleman Heritage 150qt. will retain temperature for five straight days.
One of the best things about this ice chest is how much space it has inside.
Ready to pick your jaw up off our keyboard?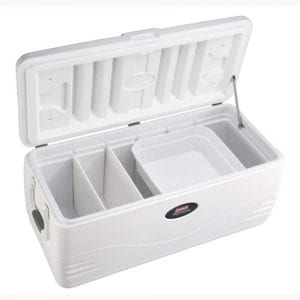 According to the manufacturer, you can fit 223 cans inside it.
There's also a dry storage tray, perfect for sandwiches and such.
The original idea behind this product was to manufacture an ice chest that would withstand extreme weather conditions, especially under the sun.
Thus…
They made the Coleman Heritage 150qt. from UVGuard™ material, an excellent protection from the damaging sun rays. There are also rust-free, stainless steel screws.
This ice chest is very practical – you can sit on it without any problem. It has the Have-A-Seat™ lid, with molded cup holders, which means you can enjoy your drink with your cup firmly in place.
Between the lid and the body, there are two springs that keep the lid in place.
As far as draining is concerned, the Coleman Heritage 150qt. has a leak-resistant channel drain, which drains the extra water with ease. You won't have to tilt the ice chest in order to remove extra water.
There's an interesting feature…
The ice chest material also has an Antimicrobial additive, which protects it from mold, mildew, and any unpleasant odors.
Also, the additive is eco-friendly.
That sure helped make us fans!
And now, some issues…
Several users have complained about the handles. The handles are large and comfortable, and appear to be sturdy, but they can be really weak.
But the biggest disappointment for users is there's no lock on the lid.
So many people find this completely unacceptable, especially for an ice chest of this size.
Other than that…
The Coleman Heritage 150qt. is a pretty good ice chest in its category, offering you a lot of space and a fairly decent ice retention period.
The manufacturer does offer a limited warranty, but it depends on the date of the original purchase. You can learn more here.
Features
43.2 x 19 x 19 inches; 26 pounds
Xtreme® technology insulation
5-day ice retention
UVGuard™ material (sun protection)
Have-A-Seat™ lid
molded cup holders
lid-protecting springs
leak-resistant channel drain
Antimicrobial additive