What's really great is the set-up.
It' is fairly simple and easy. In fact, it can be done in less than 15 minutes--great if you don't want to spend time on set-up.
What's also good is…
Only one person can do the job – this is something many six person tents don't allow.
Furthermore…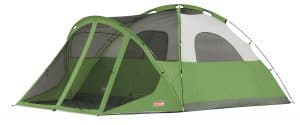 The Coleman Evanston Screened Tent has lots of room inside.
You can easily fit two large mattresses in there. Plus, there's a porch area with a screen--a feature our experts raved about.
Especially after being sent out on one mosquito rich camping adventure during testing.
But, what's even better is that the porch comes with its own flooring. You won't have to purchase an additional tarp of tent flooring.
And you won't be forced to sit on the grass.
For many users, this feature alone helped them make the decision and purchase the Coleman Evanston Screened Tent for their camping trip.
And more...
I addition to this, the tent vents very well. That's extremely important when camping in hot weather.
There's practically no condensation thanks to the four windows, which also boast a great design.
What's really cool is the windows come with their own awnings. The awnings are extended over the windows, protecting them from the rain, while letting the air in.
For additional protection, you have the rainfly. And it really does the trick!
Guess what? The structure is solid.
The tent poles on Coleman Evanston Screened Tent are made of fiberglass, and are pretty sturdy. The accessories include mesh pockets, so you don't have to worry about leaving your belongings.
The poles are secured to the tent with the patented pin-and-ring system, for added protection. This is really good, because there's no such thing as too much protection.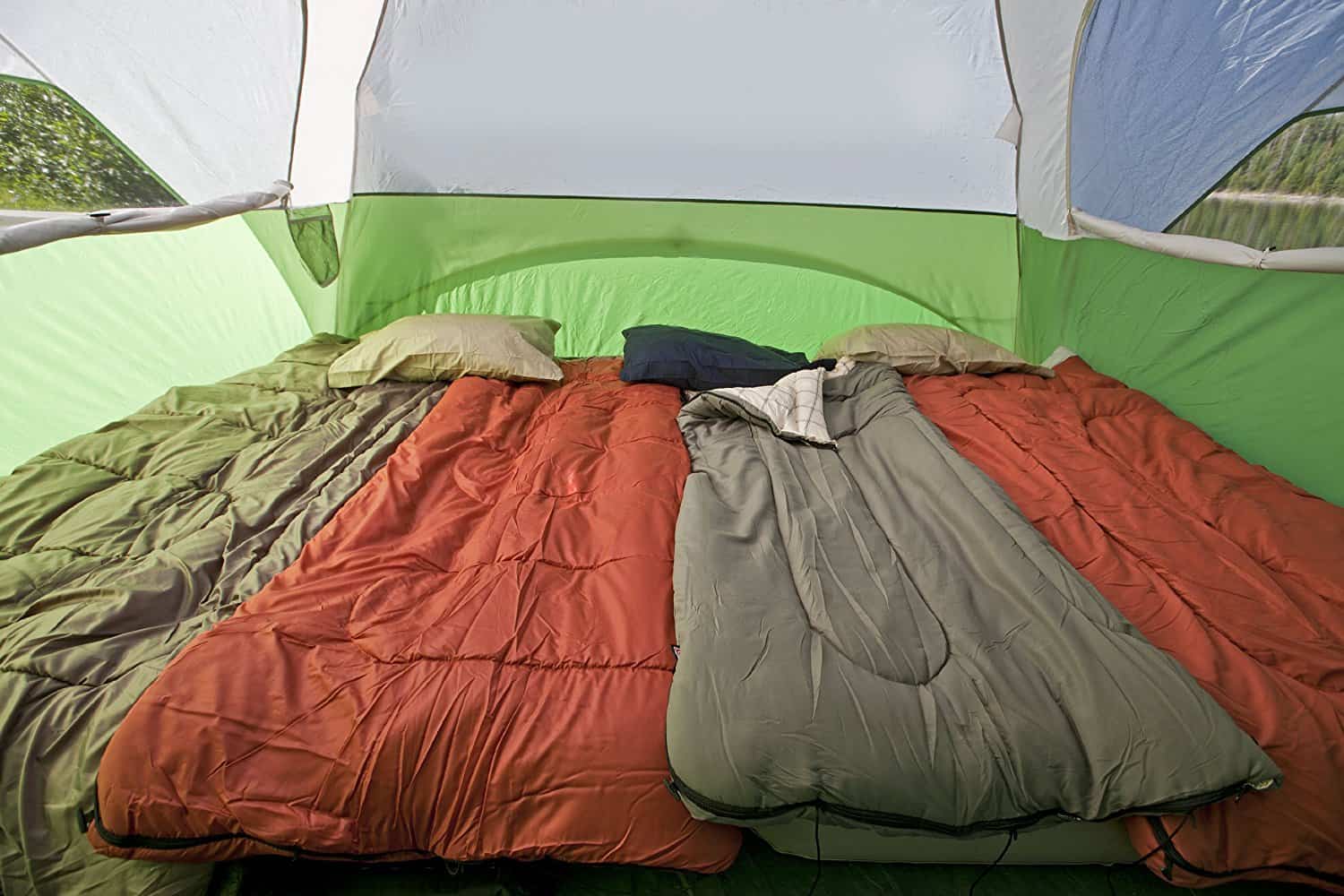 What are the drawbacks?
First of all, the window awnings kind of block the outside view. Yes, they're great when it comes to rain protection but, it's good to know this, especially if rain catches you.
There's the problem with the rainfly.
It comes only halfway over the porch. If you encounter a lot of rain, some water will definitely get inside.
The rainfly not being the perfect protection is what bugs most users of Coleman Evanston Screened Tent. This is why many get an additional protection - rainfly accessory.
And finally, here's something that shouldn't happen if you're careful, but it's definitely good to know in advance.
It's the problem with the guy lines, holding the tent together.
They somehow seem to be stretched too far, which can be dangerous – you might trip and fall over. This is especially dangerous at night.
You might want to tie red flags around them to increase visibility. Or even add some clip on LED lights.
What to do?
So, you have two options for this: either to buy reflective guy lines (they glow in the dark and are easily visible) or simply be more careful around the tent. This is not a major issue, but it has to be addressed, for safety precautions.
All in all…
Coleman Evanston Screened Tent is definitely one of the better 6 person tents out there, and well-worth checking out. It's well balanced, and has all the makings of a reliable 6 person tent.
There is a 1-year limited warranty. You can find more information to be found here.
Features
fabric type: Polyguard™
screened porch area
4 windows
window awnings
rainfly
mesh pockets