When talking about the Coleman Steel Belted, it's safe to say it's one of those ice chests that falls right in the middle.
It has a very simple, straightforward design, and a large lid that comes with its own latch. The lid is constructed well and it does keep the gasket tight.
We can safely say the insulation is good.
The overall structure is also very good and. As far as durability is concerned, the Coleman is a reliable and durable ice chest.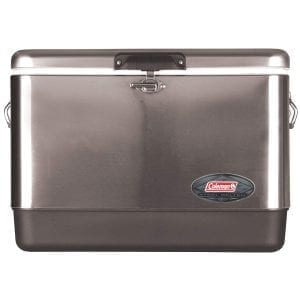 It's not heavy, and the handles are quite comfortable, which means it's also highly portable.
The handles are pretty safe, and they have a rubber grip to ease the carrying for you.
As its name suggests, the Coleman has a steel body, with a leak-resistant channel drain and a Have-A-Seat lid.
Just so you know, the lower part and the bottom are made of plastic.
Its ice retention period is four days, and it's super simple to clean and maintain.
But there's one problem with it.
The lid latch is not the easiest to handle. And this is probably putting it too lightly.
It takes a bit of time to get used to the way the latch works, but oftentimes – it simply doesn't work. This annoys so many of the users we contacted.
Not only that, but many users told us the latch broke after just a couple of moves.
It appears the mechanism for the lid latch wasn't constructed well. If there is one thing on the Coleman the users aren't satisfied with, it's the lid latch.
Also…
Some users have complained the ice chest started leaking soon after its first use, although this is not a very frequent complaint.
All in all, the Coleman Steel Belted is a durable ice chest, which should retain ice for up to four days. It doesn't have a ton of extra features, but it offers good insulation.
Nevertheless, the flimsy lid latch is off-putting to the majority of the users, because it simply doesn't do the job…
Apparently, there is a 6-year warranty, but it depends on the date of original retail purchase.
Features
25.4 x 17.8 x 17.4 inches; 19.7 pounds
steel body
leak-resistant channel drain
comfort-grip steel handles
rust-resistant, stainless steel hardware
Have-A-Seat lid
can fit 85 cans
4-day ice retention