Cobra makes excellent clubs, and while we're going to take a look at a top-tier set for men, these are built especially for women. The Cobra XL's are also a little easier on the bank account, but still give you the same quality you'd expect from the company.
This is another 12 club set with a full range of drivers to go along with several irons. The irons range six through nine with flexible graphite shafts. The 6-iron has a loft of 26-degrees and a lie of 62-degrees while the 9-iron has a lie of 62-degrees and a loft of 40. The other irons fall between that range as you can see by the chart and the lengths decrease in ½-inch increments.
Those irons have low-profile heads that are undercut. This gives you more launch off the fairway, and the chrome finish ensures your clubs still hold up long after others have shown their age. The wedges are top-notch as well, and the putter is nothing to scoff at. All have oversized Lamkin Rel 360 grips that are comfortable and give you an extra measure of control.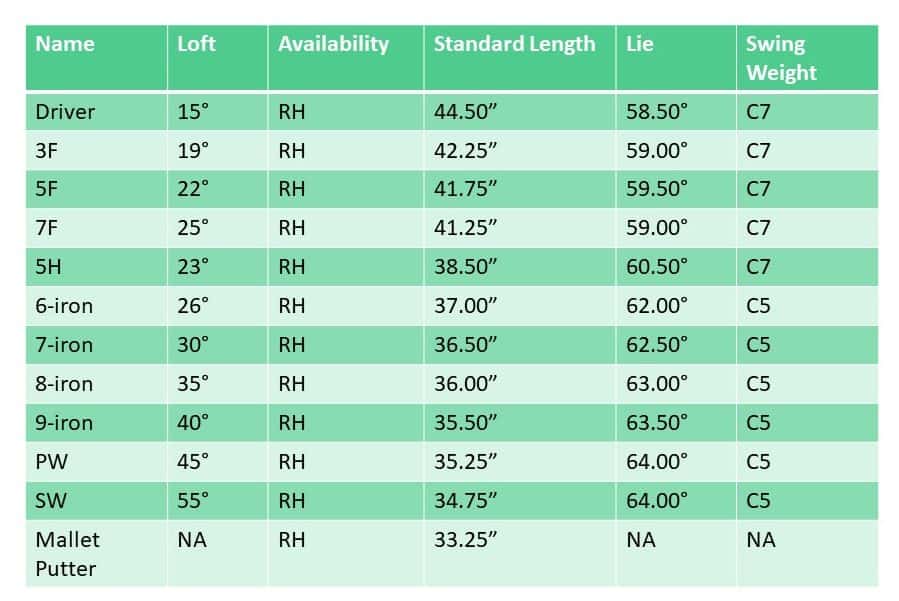 Cobra went all out with the woods in this set, so you'll get a driver along with three fairway drivers and a hybrid long iron. The 5H takes the place of the low irons missing from the bag and is in the C7 swing weight class along with the fairway woods. They have a low back-weighted center of gravity which gives a boost to the ball and takes your drives to the max.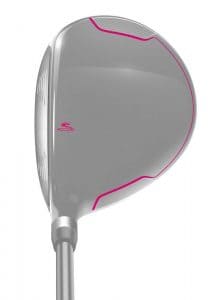 Needless to say…
The driver is just as forgiving as the rest of the clubs with a large sweet spot and eye-catching design. It has a 15-degree loft and 58.5-degree lie and is also a C7 club like its shorter siblings. At 44.5-inches, it's a good length and will provide plenty of distance off the tee. The hybrid is just as lightweight as the rest of the set as well.
The Cobra XL bag is built for the cart or your shoulder with plenty of dividers and six storage pockets. There are also two dedicated pockets for beverages and waterproof pouch. It's a good looking bag that's just the right size, and unlike other models, you'll actually get a few colors to choose from this time around.
While it's hard to argue with how stylish the Silver and Raspberry combo is, not everyone likes pink. If you fall into that category, there is a Silver and Mint, and Black and Capri Blue sets to choose from as well. Regardless of which shade you prefer, all the clubs match the bag and covers to a T. On the downside; this is another right-handed set – sorry lefties.
Features
12 club set
Three fairway drivers
Cobra XL graphite shafts
Premium cart bag