Described as "super comfortable" and great for "those 12-hour days," the Cherokee Infinity Women's Scrub Set wins in the movement department.
Its breathable four-way stretch "goes a long way" for nurses bending over and reaching freely.
While some people like how the 95% polyester and 5% spandex poplin fabric dries quickly from spills, a few others dislike it picks up lint easily.
What about its form?
The scrubs function well.
The Cherokee InfinityScrub Set is "beautifully form-fitting" and contoured to the shape of the female body.
Reviewers also note the scrub top and pants match well, are crisp, and look professional.
Even after several hours of work and travel.
The Cherokee Scrub Set is durable and easy to maintain. Cherokee suggests machine washing the garments in cold water with similar colors before tumbling them dry on low.
Want a tip?
Our experts recommend hanging the scrubs to dry to ensure lack of shrinkage.
Even though Cherokee advises no bleaching, one user notes she works with a lot of bleach and gets splashed often…and has seen no noticeable stains.
Others concur that the colors hold true and resist fading.
Here are more details: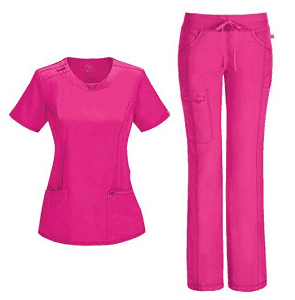 The Round Neck Top has a contemporary fit and slimming shape with front and back princess seams and a stretch rib knit at the center back panel.
It also has a handy bungee I.D. badge loop on the right shoulder.
Some reviewers like the three pockets (two patch and one interior) while others feel there aren't enough pockets.
It's a matter of personal preference.
People also the modest neckline. But, the sleeves can be a bit short for some.
The Drawstring Pant (1123A) is low rise, with straight legs. The elastic knit waistband is comfortable and held snug by an adjustable drawstring.
In fact, the women who tested these pants often left comments of relief the pants don't fall down.
No more plumber's cracks! ?
Another compliment to the pants?
They feel and wear like yoga pants. Wearers like the two slash pockets, one zippered cargo pocket, one back patch pocket, and the bungee instrument loop below the left pocket.
But, a few disliked the bungee cord or drawstring at the leg hems for adjusting the length.
How does it fit?
The top shoulder area is large. The pants can be tight and long.
Here's the feedback we got:

In any case...
If you plan to purchase a set of scrubs with matching or same-size top and pants, use the link for the Cherokee Infinity by Women's Round Neck Top (2624A) & Drawstring Pant (1123A) Scrub Set.
However, if you want to buy the top and bottom separately because you need them to be different sizes, then use the links for the shirt, The Cherokee Infinity Women's Round Neck Top (2624A) and for the pants, The Cherokee Infinity Drawstring Pant (1123A).
Features
Fabric content: 95% polyester and 5% spandex poplin
Top center back length: 26"
Pant inseam measurement: 31"
Number of pockets: three (top), four (pants)
Certainty Antimicrobial Technology