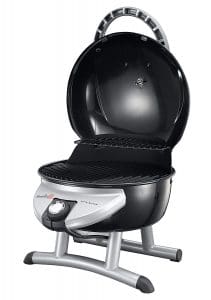 Have fun with the small 180 Char-Broil infrared grill, since you can basically carry this anywhere (again, yes, it's compact, but as compact as a grill can get), enjoying it's advanced cooking technology and a round, aesthetically pleasing shape.
This compact Char-Broil comes equipped with the signature TRU technology, evenly spreading the energy across the cooking area. It always uses at least 65% infrared, but it's also built with a 245 sq inch cooking area and can muster a temperature of up to 550 degrees Fahrenheit. Plus, it has removable dial control that plugs into any 220 V socket.
Although we have to praise it's portability, it seems quite lacking in the versatility department. It just comes without many of the small gimmicks and utensils that turn a grill into a best pick. However, if this looks like the choice for you, a more in depth look is available in this video.
In our research
Experts say it works just fine, our focus group liked it. We certainly loved cooking our favorite seared beef on it. With that in mind, we couldn't help feeling there was something off with it...
...something lacking.
The thing is, the 180 is a great choice, it certainly meets market standards, but it just doesn't have that edge, that knack - nothing makes it special, like a specific type of burner, or a considerably large cooking area. It's just a grill. A good one, but there's nothing about it that makes it better than it's market competitors.
Moreover, our focus group reported it takes quite a while to heat up, and it will lose a lot of energy if you open the lid for just a bit.
Features
Char-Broil's TRU technology
245 sq inch cooking area
Reaches a temperature of up to 550 degrees Fahrenheit
Round design