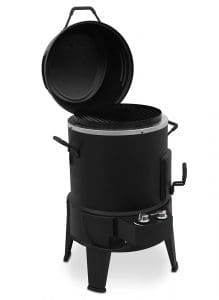 Built with a tubular design, the Char-Broil Big Easy is bound to come in handy for those seeking versatility. You can use it to smoke, grill, or roast your favorite delicacies. And we have to appreciate it's compact, yet spacious build. Withstanding all of that, there's bound to be a downside somewhere, so we put this product through some tests. Before reading, you can entice yourself with the product in action, here.
The first feature we have to mention is the TRU infrared technology, which translates to a minimum of 65% infrared light usage, and the ability to spread that evenly upon the grid. While it may look small in the pictures, it can cook up to 25 lbs of delicious food.
Another cool feature is the system for temperature control, which allows you to thoroughly respect any steak recipe. We suggest getting this product with some additional Char-Broil utensils, that you can find here, and a heavy-duty cover, available through this link.
But wait, there's more...
We were pretty satisfied with this Char-Broil product, and we can stand behind all of the advertised features - they work. Our focus group also reported customer satisfaction, with just a few of them complaining that it's quite hard to cook ribeyes on it. Besides that, focus group members said that sometimes it's hard to remove the lid.
Once, one of our colleagues even broke the handle trying to do so, and we had to spend a few bucks on a new one, so that robs this product of a 10 plus.
The few chefs we consulted also spoke in favor of the grill, one of them stating that he even has on at home.
Features:
TRU infrared technology
25 lbs capacity
temperature control
tubular design