If you need a simple grill that looks good on your deck, you can't go wrong with the Char-Broil Signature TRU 420. This stainless steel beauty grills with the best of them and has an interesting feature under the hood as well.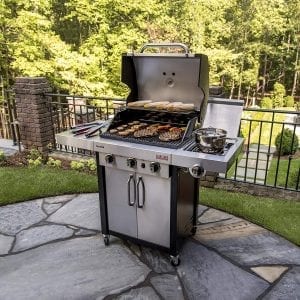 On the outside, the TRU 420 is a regular grill although one with a bit of class. The company went heavy with the stainless steel, and the two-tone design looks good with the black metal and stainless. While not the sturdiest, it's going to hold up well outdoors provided you take proper care of it. It's fairly compact as its only 51-inches wide but heavy at around 150 pounds.
Thankfully, this grill has a solid set of caster wheels, and two of them lock. We also like the enclosed storage area which hides the tank. The shelves are standard and won't disappoint although they do not fold down like other models. Overall, it's a slick well-built grill that's easy on the eyes.
What's the interesting feature?
The TRU 420 has infrared technology, but not in the usual sense. There are no wires to deal with as it's all about the cooking grate. It heats up quickly, and the heat spreads evenly across the surface ensure there are no cold spots. Flare-ups go the way of the dinosaur as well – those juices are seared in and don't leak out. This video explains the company's approach nicely…
While infrared tech is nice when even heating and flare-ups are a concern, you won't get far without good burners under the lid. This one has three top-ported 443 stainless steel tubes capable of 25,500 BTU. It provides more than enough heat for the 420 square inch cooking area which features porcelain-coated cast iron grates. There are an additional 155 square inches up top for low heat cooking and warming as well.
The Char-Broil Signature TRU 420 isn't the fanciest grill around, but it looks like it and performs as advertised. It has a reasonable price tag to boot even if it's a little underpowered compared to other grills in this class. Some owners also felt it was difficult to assemble compared to similar models. As you'd expect, no cover is included so you'll want to pick up something like this Rip-Stop Cover which fits this model perfectly. You will get a user's guide, and the grill comes with a 3-year warranty on the main components, 10-years on the burners and 1-year for everything else.
Features
25,500 BTUs
420 square inch cooking space
Enclosed stank storage
TRU-infrared technology