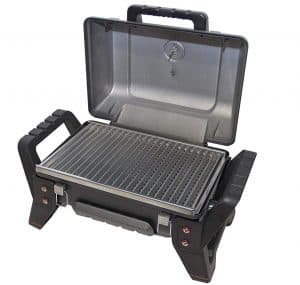 A barbecue grill couldn't get more compact and portable than this, but even if the X200 features Char-Broil's signature technology, let's see if quality comes in the same package as portability.
Yes, the Grill2Go has an extremely compact design, and a special version of the TRU tech - with no flare. To top it all, a great surprise we had was the strikingly large 200 square inches of grid (at least large for a portability of this magnitude).
With that in mind, it seems this iteration of Char-Broil's infrared technology is a bit lacking, since your meat will get burnt before it's fully cooked on the inside, and we have a few problems with heat loss after opening the lid just a little.
What does the testing say?
It seems this product is quite famous amongst the chefs we interviewed, but all of them gave mixed reviews. The portability was praised, both by them and by focus group members, but the slightly less efficient infrared technology was a common complaint, so it does fall short in that category.
Features
Extremely compact design
No flare TRU infrared tech
200 square inches of cooking area