Casio pianos run the gamut from small, simple keyboards for kids to full-size digital keyboards suitable for pros.
The PX-160 is right in the middle of this range, both in terms of price and when it comes to the features and sound quality.
This makes it a good option to look at for an advancing student or serious hobbyist who's equally concerned with getting a great instrument and getting a good value.
What makes it a great value?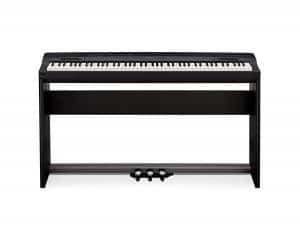 It comes with all the things you need to start playing. This includes a piano stand, a stool, an SP-33 pedal, and the power adapter. There are also an instructional book and DVD in the box, although these aren't likely to be as universally useful.
They're fine beginner piano tools, but this instrument isn't necessarily the best option for the absolute beginner.
The piano itself is an update of the popular PX-150 model, one of the best-selling options in Casio's catalog. It has 18 different voices, including both keyboard and string ensemble models.
How do they sound?
The grand piano tone is especially impressive thanks to the intelligent resonator processor, which has a more natural decay and sustain than past Casio models.
The Casio PX-160 is relatively basic in terms of features, but there are a couple of noteworthy additions.
Here's what caught our eye…
You can use Duet Mode to split the keyboard, a great option for instructors. There's also recording, transposition, and metronome functions—in short, everything an advanced student needs to push their talent to the next level.
Features:
Keys: 88
Voices: 18
Power: AC adapter (included)
Weight: 46 pounds
USB: Standard (1)
Inputs: 3 pedal inputs
Outputs: 2 ¼" headphone jacks