A full 88-key keyboard is typically recommended if you're serious about learning to play the piano.
But it's not your only option.
Despite the reduced range, a smaller keyboard can have its advantages. It's easier to carry around and more comfortable for young kids to play.
It costs a lot less too!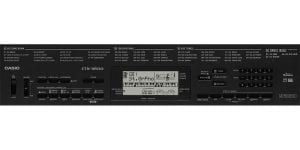 The CTK-3500 isn't just the toy keyboard you might expect when you see the price and size. Its touch-sensitive keys are responsive to dynamic and pressure changes, and there are two different levels of sensitivity to choose from so you can adjust the feel to suit your playing.
The sound is the same quality as the feel, too. The two 3.9" speakers and on-board amplification put out a good amount of volume, and have a realistic, pleasant tone.
There are features beyond the basics that make this a great choice for students, too.
The Lesson Function brings you a few helpful tools, including a fingering guide and a scoring system to track your progress. You can expand these functions by connecting your keyboard to the Chordana Play app.
This integrates with the keyboard's display, giving you a guide for playing popular songs.
But here's the kicker...
This little gem isn't just for beginners.
It's also a fantastic tool for composers, arrangers, and electronic music artists.
It has hundreds of voice options and around 150 different rhythms, between the main rhythm function and the electronica-oriented Dance Music Mode.
What's more, you can play this keyboard anywhere, thanks to its compact size and battery powered option.
For value and versatility, this piano is your answer.
Features:
Keys: 61
Tones: 400
Rhythms: 150
Power: 6 AA batteries, AC adapter (included)
Weight: 8 pounds
USB: Standard (1)
Inputs: audio in, pedal
Outputs: headphone
Dance Music mode and on-board rhythms perfect for DJs, composers, and arrangers
Connects to Chordana Play app for play guides on popular songs