Carhartt is yet another brand that specializes in making quality work boots for men. This particular model is highly versatile, provides great arch support and boasts completely waterproof materials. Let's check out its pros and cons.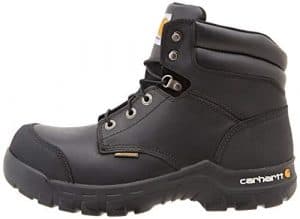 The material used for making the uppers of these shoes is high-quality leather, which adds to their durability. Their waterproof membrane ensures they never let water in, keeping your feet dry at all times. But apart from this, they're resistant to oil and chemicals, which makes them ideal for a wide range of tasks. Thanks to well-designed rubber outsoles, they also help you avoid accidents on slippery terrains.
It gets better:
Equipped with Ortholite insoles with five different layers of padding, these work boots make sure you get enough support for your arches. The toe part is reinforced with composite materials, which give protection without adding a lot of weight. As a result, you'll be safe from foot injuries as long as you wear them. And last but not least, since they're manufactured using cement construction, these shoes are sturdy, but not as flexible as some other models.
You might be wondering:
Are there any other downsides to wearing these shoes? First of all, we've found they're a bit too heavy when you wear them all day long. This automatically makes them less comfortable, which could be a big disadvantage for some. They can also get a bit hot after a while, which doesn't make them suitable for those working in warmer conditions.
Features
Leather
Waterproof membrane
Ortholite insoles
Rubber outsoles
Composite toe reinforcement
Cement construction