The Capri Tools Mechanic's 16-piece Screwdriver Set is a professional set of tools that contains 16 of the most utilized screwdriver heads. Our kit arrived with eight slotted heads ranging from 1/8 x 4 inches to 5/6 x 8 inches and eight Phillips from #0 x 4 inches to #3 x 8 inches all in perfect condition.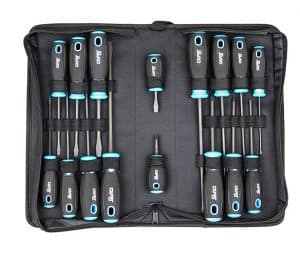 In general, we noticed the set is built from a very high-quality material. Its handles are rather large and made to be non-slip. They provide the necessary torque even under greasy conditions.
They're also acid and grease resistant, making this set great if you work under such conditions.
The shafts are made from S2 premium steel that is shock resistant, and even tougher than chrome vanadium. It does not seem like it would bend even under heavy use. The shaft has a dark, corrosion-resistant coating that prevents glare and reduces eye fatigue. The whole kit weighs 4.05 pounds. You can view the set in this video.
Capri's 16 piece screwdriver set lives up to its expectations of being of very good quality and strong even under heavy use. The tips did not show any kind of denting even as we drove one into hardwood and it hit a nail. The magnetic tips also work great, holding the screw squarely in place when needed, and after you are done, everything fits nicely back in the case.
Here's the catch:
The only issue we noticed with Capri products is quality control. There are many complaints from various customers who received a set with defective parts such as bent shafts. The product is manufactured in China.
Features
Contains 16 pieces of magnetic-tipped slotted and Phillips screwdrivers in either short or long sizes
The composite non-slip handle provides 30% more grip in normal conditions, and 100% more grip in greasy conditions compared to traditional screwdrivers
Oil, grease, and acid resistant handles
Shafts are made of tough, shock-resistant, premium S2 steel
Features a protective black oxide finish that protects the shaft from corrosion as well as preventing glare and reducing eye fatigue