If you're looking for the most versatile recliner out there without having to compromise on aesthetics or comfort, look no further than the CANMOV Breathable Bonded Leather Recliner Chair.
You may be asking:
"What sort of amenities?"
Guys!! This chair has amenities out the yin-yang!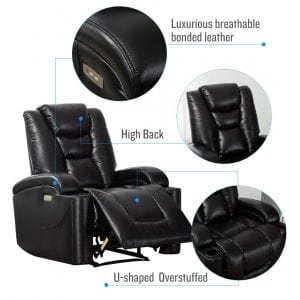 The CANMOV Recliner has not one, but TWO cup holders, a storage bag for your books and magazines, AND a USB port to charge your phone. You'll never have to get up from your new recliner ever again!!
Holy cow!
I know!
But what really sold us and the other product owners on this recliner was the U-shaped seat and high backs designed specifically to ease the pressure on your lower back—a concern very near and dear to myself.
With its motor-powered recline of up to 145 degrees—aka the ideal "sleep position"—you can stop the chair at any angle.
You can customize your own comfort!!!
And that's not all!
From its wide range of reclining angles to the vast number of amenities, the features on the CANMOV Recliner make it the number one chair for those confined to a bed-rest position or recovering from major surgeries.
PLUS!
Watch how easy it is to assemble, meaning any caretaker—whether professional or familial—can put it together!
On top of all of this:
The CANMOV Recliner has a wide seat making it excellent for home theaters, a nursery to fit both parent and baby, and even for our big and tall friends!
With that being said...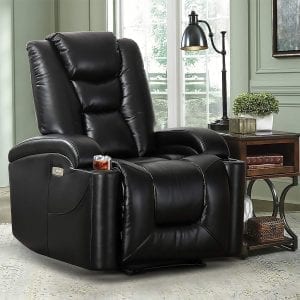 Because of its wide seat and tall back, the chair is not ideal for small spaces.
And since it is a motorized recliner, it needs to be near an outlet at all times, limiting the number of places you can put it.
The Reviews Are In!
Consumers repeatedly told us that their CANMOV Recliner is their favorite chair for napping. And because of its sturdy, wooden frame, it is built to stand the test of time!
The product owners—specifically those with kids and pets—also mentioned how much the leather upholstery was stylish but super easy to clean.
Features
Motor recline
Endless amenities
Attains sleep position
Dimensions and Weight: 37.8" (L) x 34.6" (W) x 40.6" (H), 92.4 lbs
Back Height: 21.7"
Seat Dimensions: 21.7" (W) x 22.4" (D)
Maximum Capacity: 300 lbs