One of our top choices for women is another golf set from Callaway that also hails from the Strata lineup. It's the Strata Complete, which comes with only seven clubs, but still provides a considerable amount of value if you're just starting out.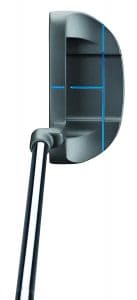 The Callaway Women's Strata set is comparable to the men's version with a few key differences. While they have a similar style and lie for the most part, the lofts, lengths, and swing weights are completely different. You'll also get a 5-wood instead of a 3-wood with a lightweight shaft and a 5H or hybrid club that will take the place of a few long irons.
Both fairway drivers are well-built with large sweet spots, and you can say the same for the regular driver. It sports a super lightweight graphite shaft and is 44-inches long with a loft of 16-degrees. It's a C9 club with a weight of 341 grams and a lie of 58-degrees just like the 5-wood.
While we love the hybrid club, you're going to have to hope it gives you enough distance off the fairway. That's because there are only two irons in this set with a 7-iron and 9-iron. They will provide you with plenty of range, but you'll need to upgrade to the Strata Ultimate or Strata Plus if you want more clubs.
The latter adds the 6 and 8-irons along with a pitching wedge while the Ultimate set gives you those along with a 4H and 3-wood. All three have slightly different bags as well.
How about the irons?
The irons and wedges in this set are weighted around the perimeter with progressive sole tech which helps improve your control on the fairways and shots approaching the green. As a bonus, all the shafts are graphite except for the putter which is sports a steel shaft and is in the T-style alignment.
It's a lightweight set that can lengthen your game and perfect for women of average height or those that are a little shorter. If you are closer to 6-feet than 5 ½", you may want to consider the length carefully.
Callaway did an amazing job putting together this set, and while we would have liked to see a few more irons in the bag, their other sets cover that. This one is an excellent option if you've never picked up a club before as they won't break the bank or your back when you're walking the course.
These clubs are available for righties and lefties and come with a 2-year warranty along with a few covers for the driver and hybrid club. The bag has a built-in stand, rain hood, and five pockets to take care of your gear.
Features
11-club set
Lightweight graphite shafts
Progressive sole technology
Left and Right-handed