Last but not least, the Callaway 300 - decent overall, and probably a really good choice for the amateur player.
There's not a lot to get into, but let's start with some basic numbers.
Buying this product…
...means you're covered on all fronts. You get a device that's accurate to 1 yard, with a 5-1000 yards range. On top of that, if you want to zoom in on your target you get a 6x magnification feature.
Moreover,
You get a very enticing slope mode. It works fine, and you can turn it off for tournament play, so it could be the right choice for a pro golfer as well. In our testing, we found that Callaway's slope function was the second most accurate one, besides the Bushnell X2.
If angle adjustment is important for you, definitely take this into account.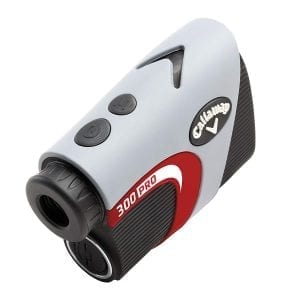 What's special about this product,
Is the really cute chirping pin-sensor technology. Once the target is locked in, you'll hear a subtle chirp that lets you know you strike with confidence in the distance measured.
Does it motivate you to get a birdie?
Not really, but it's a sweet feature for the golf enthusiast.
Moreover,
You have a continuous scan mode, allowing you to acquire a variety of targets. We have to say we're not wowed by this technology, but if you want a holistic view of the course, such a feature is really important
So what about the bad stuff?
First of all, you run out of batteries really fast. This is extremely bad because the Callaway 300 requires the rare CR-2 batteries (just like most laser finders) to function, so this hassle is something to consider.
The biggest issue of this device…
...is consistency. While this problem may not arise in the beginning, after a few months you'll notice the finder gets a distance right only 50% of times. We had this issue, and the internet is full of previous users that encountered the same problem.
With proper care, you might avoid that, but there are better options on the market.
To wrap it up,
If you're not keen on spending the extra hundred bucks on a Bushnell, the Callaway might be the right choice for you.
On a final note however, don't expect the fastest measurements. The device can sometimes "take its time".
Not a problem for you?
Then definitely look into the product, starting by checking this video out.
Features
Laser Rangefinder
1000 yards maximum distance
Accurate to 1 yard
Slope mode