California Air Tools is known for making affordable machines that can hang with higher-end models.
The CAT-1P1060S is no different in that regard.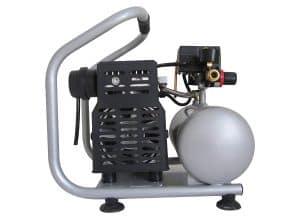 But it's considerably quieter than any other compressor in its class. We think that counts for something.
At 29.5 pounds, the California Air Tools CAT-1P1060S is portable, if a little awkward to carry due to the design. It's not a "leg bumper" or overly top heavy, but noteworthy nonetheless.
The front of the unit has the hot dog style tank along with a regulator and quick connect coupling.
There's no shroud or covering over those components although there is some protection around the pump and other parts.
Can you really believe the hype?
This compressor is rated by the manufacturer at around 56 dBA. That's quiet, but unfortunately isn't on the money as various tests have shown.
Don't believe us?
Check out the CAT-1P1060S in action…
Numbers don't lie and we found it's closer to 68 dBA than 56 decibels. That's a bit of a disappointment. Although, those numbers will vary and it's still quiet enough to talk around. It won't split your eardrums like a larger machine and maintenance will be minimal as well.
As this model is in the budget class, there are no bells & whistles that stand out compared to similar small air compressors.
The specifications are solid, however.
It's capable of 1.20 CFM at 90 PSI. It has an oil-less system rated for 1.2 HP during peak conditions but runs at 0.6 HP as it provides air to the 1-gallon steel tank. The recovery time from 90 to 120 PSI is 15 seconds, and you can go from empty to full in less than a minute.
The company decided to keep the extras spare on this model, so there's nothing in the box aside from an air filter and a manual (which you can download directly by clicking here).
It's ETL certified with a 1-year warranty, but if this is your first compressor, you'll need to purchase a hose at minimum. While there are plenty of options to choose from, Giraffe has a fine line of compressors accessories including some tough hybrid hoses.
There's a lot to like about the California Air Tools CAT-1P1060S although it's a mixed bag in a few areas.
The build quality could be better, and we aren't huge fans of the design. That said, it's quiet and produces plenty of air depending on your needs while sporting an attractive price point.
Features
Oil-free pump
120 Max PSI
4.5 Amp motor
Rated for over 3000 hours