A simple design, yet with a touch of curvy personality. The BWE Waterfall Spout will work for a wide range of bathrooms.
The main features are quite obvious. You're covered for life with this choice, and you have a huge variation of finishes to choose from.
Thirteen different finished, in fact. There's bound to be one that suits your specific needs.
Overall the product fares pretty well, and our tests were uneventful in a good way. The experts also came in support of the BWE, praising the cartridge valve.
Additionally, this faucet comes with an assorted drain stopper. If that's the only thing of interest to you, do check this link.
This fixture does have some faults.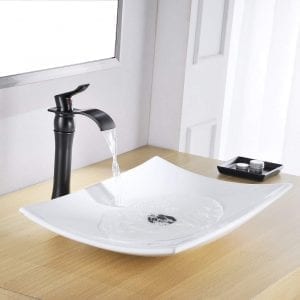 The first minus that comes to mind is the sound. This faucet is really loud. Don't get me wrong, it's not "riot-hose" loud, but it's loud.
More than that, the size can be misleading.
This BWE Waterfall is quite large, and you may not get that impression from the pictures. We were certainly surprised when it arrived. Knowing that, we recommend measuring your sink if you're thinking about buying this one, and then comparing those measurements with Amazon's product description.
Features:
One lever for temperature control
Cartridge Valve