A more complex BWE faucet, this product certainly lives up to market standards. It's good looking, has functional insides and it comes with a lifetime warranty.
We really like the general stuff, but we also have to praise this fixture for the valve it features. It has a ceramic twist on the regular cartridge system, which ensures as few leaks as physically possible. Plumbers we talked to also liked this valve, all agreeing this faucet has overall great quality.
If we're to talk interior design, we we feel the BWE Waterfall bathroom faucet stands out. It's well made, with a few visual tweaks here and there.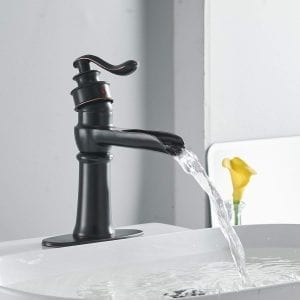 But we really want to mention BWE's adaptability.
There are 16 possible finishes on this one, some of them even with a 3-hole mount. As a result, you can easily pull off any look you may desire. The same stopper we discussed for the other BWE product also comes in assorted varieties, so check it out here.
The problems we found…
Were not deal breakers, but they are worth mentioning. First, this product is a bit hard to install--especially if you get a 3-hole mount version. There's absolutely no instructions inside.
Moreover, this one is also a bit loud, which seems to be a feature of BWE fixtures.
Features:
Original design
Simple lever control
Lifetime Warranty