The BuySShow Quiet Professional clipper is a cordless, rechargeable clipper designed for quiet and precise performance. As advertised, the clipper is very silent with only around 50db of sound produced. Great to keep babies and pets calm during a haircut.
It comes with an R shaped, rounded edge design which makes it almost impossible to slice your skin when clipping. The precision motor is great for cutting medium and even some thick hair types too, but it slows down when cutting really thick hair so keep that in mind.
The kit includes six level comb guides, two oblique guide combs, one thinning comb, two pairs of scissors, a hairdressing cape, a charging stand, and a power adapter.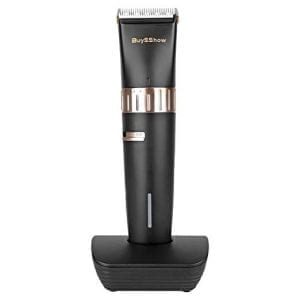 Wait, it gets even better.
When using the machine, we found the ceramic cutters effectively prevent overheating. The attached pairs of scissors are also professional and sharp for any detailing work.
To get the guard settings right, you'll have to spend some time with this clipper since it's not as straightforward as other models.
The battery needs three hours to get fully charged after which they can run the clipper for about four hours.
Note that due to shipping restrictions, the clipper oil is not included in the package and you will have to buy that separately
Features
Ceramic titanium blades and ceramic movable blades
R-shaped rounded edge design that prevents injuries
Low vibration and ultra-quiet design
Three hours charging time gives four hours of working time