This rangefinder promises the world - all the possible technologies, huge ranges, accuracy of up to half a yard, and ease of use.
It's a Bushnell, so we're inclined to believe them.
But is it really the best possible rangefinder?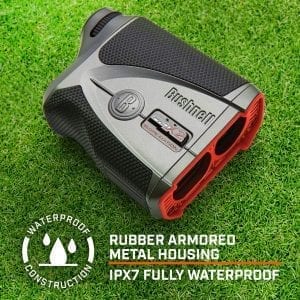 There are a few things that say yes.
First of all, the slope technology works perfectly from what we've seen, and it can be deactivated - good practice and tournament legal.
Secondly, the huge range is not a fake boast - we actually tried measuring things from over 1000 yards away with it, and we got pretty accurate measurements (although the error margin was more like 2-3 yards at these distances, not half a yard)
If we're talking about cool stuff, we should also mention the Dual Display. It's awesome to switch between brightness settings because you can easily read the display regardless of the weather.
Even more so,
All of these technologies are augmented by the lightning fast response time - qualitative and speedy, this is turning out to be quite the good choice.
But don't get your hopes up…
...the device is not without issues.
If we're talking about technology issues, the pin-seeker is not as high-quality as Bushnell's usual rangefinders. You can actually have a really hard time locking-in on targets that are over 300 yards away, so definitely watch out for that.
Even more so,
You can easily get inconsistent readings during bad weather - especially fog. If it seemed like an outstanding device in the beginning, it certainly shapes up to be a flop.
And the problems don't end here…
... Battery lifetime can cause headaches as well, being way easier to run through the power source if it's cold outside.
Yeah, you do get the Bushnell Golf Pro app access, and you get an overall qualitative device - but it's not as good as a Bushnell could've been.
If those problems don't bother you, here's Golf Monthly's review of the product.
Features
Laser Rangefinder
5-1300 yards range
Accurate to half a yard
Slope Mode technology