Can Bushnell provide the same value in a GPS finder as well?
The Phantom is definitely good, but let's see if it's a right match for you.
To start things of…
We want to mention that the device is your run of the mill GPS finder, with 40.000 pre-uploaded maps and Bluetooth for map updates. The display is very minimalistic, displaying distances to the front, back, and center of the green.
Additionally, you can mark up to 4 hazards per hole, so it's pretty adaptable to the needs of each individual.
Definitely a good design.
What we really liked about it…
Is the magnet in the back of the device, which allows you to stick it anywhere you want - golf cart, your bag, anything. We even tried sticking it on a 10.5 driver while striking.
We know, silly, but experimenting is key to finding what works and what doesn't (also we were really tired, so don't judge).
Even more so,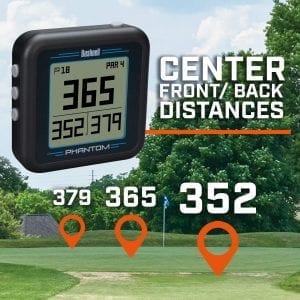 Bushnell support seems extremely eager to help you with this product. We once called about an error displayed on the device, and they fixed the issue in no time.
Previous customers report similar experiences. So if you do purchase this item, don't be afraid to ask Bushnell - they'll be fast and helpful.
So what's the matter with it?
First of all, it's not special in any way.
We know that's not a problem - if you want something simple, definitely go for it.
But when you're pitting the device against market competitors (even other Bushnell products), you can't help but notice how much more helpful the Tour V4 or the GolfBuddy can be.
To add to this,
The base materials are not qualitative. The plastic it's built out of shouldn't be described as "durable" and you can definitely get better hardware.
These issues have led to a lot of cases of malfunction. The numbers simply start fading from the display or the power button just doesn't work anymore.
Again, if you take good care of it this shouldn't be a problem.
But what should worry you regardless...
...is that although the display and controls are simple, you have to access very complex menus, which makes the operation of the device seem very hard and cumbersome at some points.
Still keen on getting the Bushnell GPS? Get a more in-depth look over here.
Features
GPS Rangefinder
40.000 pre-uploaded maps
Bluetooth for map updates
Distance to the back, center, and front of the green