Bushnell is taking night vision optics to a whole new level with these Lynx Gen 1 binoculars.
These night vision binoculars support a viewing distance of up to 750 feet, which is more or less similar to the industry average.
Let's look at the Bushnell Lynx in more detail:
First of all, these binoculars feature a built-in Infrared Illuminator for a kick-ass night viewing experience.
The product also boasts long-lasting power from just two AAA batteries, which are (sadly) not included in the package.
The Lynx Gen 1 is very comfortable to use, especially during long periods of observation and viewing. With an extra-long viewing range and a wide field of view, they're perfect for law enforcement, wildlife observation, and night surveillance and navigation purposes.
Now for the specs…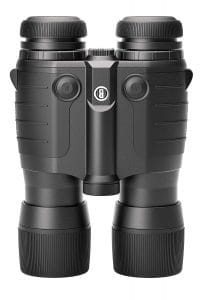 These Bushnell binoculars offer 2.5x magnification and 40mm objective lenses, which are both great features to have.
The objective lens helps in magnifying the objects in front of you enough for you to see them in great detail.
The external glass of the lenses is coated with an anti-reflective material, which makes the view during daytime much clearer and enhances infrared vision at night.
It also serves as a cover for the user so they don't get caught or spotted by the glare on the lenses, as is the case with most other binoculars.
Considering they're a Gen 1 model, they really do work pretty well. Of course, they aren't comparable to military-grade night vision devices, but they sure do the job. Just make sure you don't expose them too much to strong light.
Now, let's talk about the physical aspects!
These Bushnell binoculars come in a standard army black color, with an AR-coated glass on the lenses that gives it a nice, blue tint.
Right at the top of the unit, you'll find there are two control buttons; one for the infrared beam and the other one for power.
On the back, between the two eyepieces, there's an adjustment knob for moving the eyepieces apart or together to suit your needs.
On the bottom, the product features a mount for a tripod stand, which is very helpful if you're going for longer watch sessions, or if you are just into a hands-free experience.
But here's the thing…
These features are all pretty cool, but only once you figure out how to use them.
According to our research, getting these binoculars to focus was the hardest part. But most customers said that once they got the hang of it, this product worked wonders for them. I guess all you need to do is spend a little time learning how to use them and you're good to go!
We also found that the product worked better without the usage of the infrared button.
Now, even though these binoculars are super-efficient when it comes to viewing capabilities, they do come with their own set of flaws.
For one, there've been tons of complaints about the power (on/off) button becoming inoperative after a while.
Moreover, the product doesn't support the feature of taking/saving photos or recording videos like most modern binoculars do. Now, why are we mentioning this here?
Well, since these binoculars lie on the upper end of the price spectrum, the feature was sort of expected. Let's just say we found the lack of it a bit disappointing.
Features:
2.5X Magnification, 40mm Objective Lenses
Viewing distance of up to 750m
Anti-Reflection coated glass
Infrared Illuminator for enhanced night vision
Gen. 1 image-intensifier tube for increasing intensity of available light
Tripod Mount