The BulbHead Red Copper 10-Piece Copper-Infused Ceramic Non-Stick Cookware Set wins points for heating food quickly and evenly and being strong, thick and durable.
After following instructions to season the nonstick pans, users find them great for cooking without oil.
Trying to cook healthy?
Our experts suggests those trying to reduce or eliminate fats in their diet could benefit from this nonstick cookware.
Wait, there's more!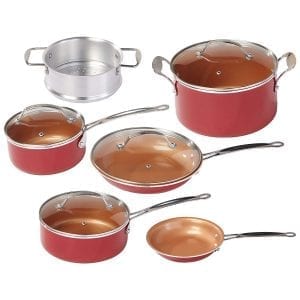 The BulbHead Red Copper 10-Piece Set also saves time through easy cleanup. In the case of any accidentally burnt-on food, several testers state simply soaking the pan in water and then wiping it clean is enough.
However, one expert chef recommends:
That, although advertised as dishwasher-safe, this set should be hand washed to preserve the nonstick surface.
Also…
We found a few complaints about the BulbHead Red Copper-Infused Cookware Set. Some users state the side and lid handles get hot, and the lightweight pieces seem cheap and prone to warping. A few people complained the nonstick finish chips, the exterior scratches easily, and its red paint rubs or melts off.
Truth in advertising?
Watch this television commercial for Red Copper cookware.
While many users support this ad's claims, some other discerning consumers don't.
First, metal utensils and a metal mixer do scratch the nonstick surface. Second, several people find they still need to use oil or nonstick spray after the nonstick coating stopped working after a month or so.
What does that mean?
We tried to figure out what the term "copper-infused ceramic" means.
Does that mean the ceramic nonstick coating contains copper?
If so, then copper comes into contact and can react with food, which is unhealthy.
The manufacturer's website yields no concrete explanation on how much and in what manner the copper is "infused" or used in the cookware.
Features
Includes 8-inch fry pan, 10-inch fry pan with lid, 1.5-quart sauce pot with lid, 2.5-quart sauce pot with lid, 6-quart sauce pot with lid, and aluminum steamer insert.
Copper-infused ceramic nonstick and scratch-resistant cooking surface
Aluminum body
PTFE-free and PFOA-free
Oven safe up to 800°F
Dishwasher safe