If your game room has a dark aesthetic, look no further. The sleek black design of this 7-foot Brunswick table makes it a fun addition for your living room as well, promising quality, durability and lots of good matches.
Is it a good choice?
We may have given that away with our rating, but we'll state it again - it definitely looks like a good choice.
In terms of construction…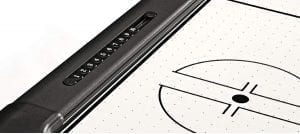 … the Brunswick comes with sturdy pedestal legs made out of a durable alloy. On top of these, you get a laminate MDF playing surface, and a strong UL-certified blower pumping air from underneath.
It certainly looks like a nice build.
Extra features?
You'll have to keep your own score on this table's manual system, but the blower is powered by a regular 110 - 220 V plug, so no need for batteries.
You also get four pucks and two high-quality strikers, so you can go berserk with the power strikes.
It's a pretty basic table, but in the end, that's the beauty of it.
What we do want to praise…
...is this product's design. You just can't go wrong with black and white, but the way Brunswick pulls the look is unique. There's a definite preference for black and the white elements are intertwined perfectly to create the feeling it's a secondary color.
Fits right in.
The issues that bugged us…
...are not the end of the world, but like with any product, this one has its weaknesses.
The first apparent problem is that you can't find replacement parts anywhere.
Dented a corner or broke the scoring system?
It will stay that way because if you're not handyman enough, there's no way to replace any component. Moreover, some shipped products featured flimsy parts, so get ready to feel discontent if you're unlucky.
Another issue that might arise…
Is setting it up if you don't have an Allen wrench of your own. The one that's in the package doesn't work on all parts.
Features:
7-foot Freestanding table
Plug-in blower
Manual scoring system