The Glycerin series from Brooks has received a lot of really positive reviews from users from all over the world. Although they're made to be used as running shoes, they have plenty of upsides for those with high arches. Let's see how their Glycerin 15 model fairs when it comes to support and comfort.
The uppers of these shoes are made from a lightweight mesh material. We've found that this makes them very comfy since they weigh next to nothing. What the brand has called 3D Stretch Print technology really refers to how this material reacts when worn, moving and expanding along with your feet to give you all the flexibility you might need.
It gets better: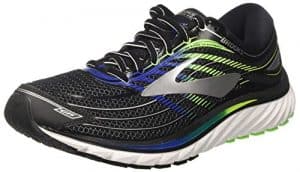 The soles are what makes these shoes so great for people with high arches. Their so-called Super DNA midsoles boast improved cushioning. Being highly adaptable, they make for an excellent choice for those who don't feel comfortable enough in regular shoes. In addition, the soles have transition zones that have been redesigned to reduce impact on the heels.
There's more to what these shoes can offer, especially in terms of stability and comfort. Their rubber outsoles feature lugs that make it very hard for the wearer to lose their footing. Also, the mesh uppers aren't just lightweight, but very breathable as well. From our experience, we can say that they keep feet dry, adding to comfort.
But wait:
You shouldn't really make any final decisions before learning about the downsides of wearing these shoes. We've done our research and believe that the two main cons have to do with the sizing chart and the feel of the shoes themselves. When talking about sizing, customers with wider feet report they have trouble finding a pair of Glycerin 15 shoes that fit comfortably. Also, some have complained that the shoes look a bit cheap, at least when compared with the pictures.
Also:
The shoes aren't that suitable for runners, despite being advertised as running shoes. We've found that they lack the support that's key when it comes to sports footwear, especially around the ankle area. But we don't believe that's so important in this particular case.
Features
Mesh uppers
3D Stretch Print Technology
Rubber outsoles
Super DNA midsoles
Improved transition zones