If you want a product that you can use with both a younger and older baby, this is a great choice. This activity gym comes with a mat and saucer, so you can use the mat until your baby is big enough – then you simply transfer over to the saucer.
The Bright Starts 2 in 1 Laugh & Lights Activity Gym and Saucer features numerous engaging toys, including a teether, spinning paddle, and bead chaser. There are also additional link loops so you can add your baby's favorite toys.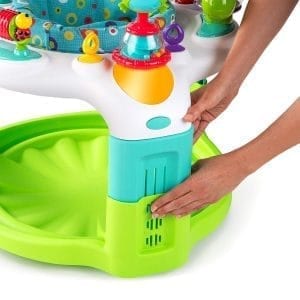 Here's where it gets good:
The height of this gym can be adjusted, so it can grow with your baby. The seat can rotate 360 degrees, so your little one can easily reach all their toys. There are three modes which you can activate - Quiet mode for lights only when you need some quiet, Movement mode for activating the sounds with baby's movements, and Continuous mode for 20 minutes of uninterrupted lights and sounds.
The only downsides to this activity gym are that the seat fabric is not easy to replace when you take it off for washing and most of the toys are hard plastic. The product itself is simple to assemble following the instruction manual and is backed up by a limited warranty.
Features:
Dimensions: 30 x 28.5 x 32 inches
Weight: 16.61 pounds
Weight limitation: 24.2 pounds
360-degree rotating seat
Height adjustment
Mat and saucer included
Quiet mode, Movement mode, and Continuous mode
Includes teether, spinning paddle, bead chaser, etc.
Easy to clean
Simple to assemble and disassemble
Powered by 3 AA batteries (not included)