The Breville BOV800XL Smart Oven is an 1800 W convection oven with 5 Quartz heating element that can be increased or decreased as needed to provide the perfect amount of heating. This allows for crisp crusts, evenly cooked cookies, and top and bottom evenness.
It might be compact, but it's mighty.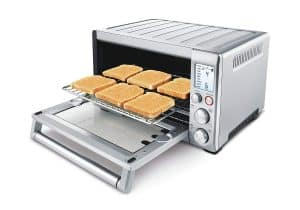 The design of the Breville BOV800XL Smart Oven features a compact design that fits right on your kitchen counter. It is larger than most convection ovens but not bulky or expansive in its makeup. It is made from durable materials and includes a stainless-steel exterior to complement your current kitchen appliances.
While this convection oven is not self-cleaning, it does incorporate a non-stick interior that can be easily cleaned with a damp cloth. It prevents food from sticking and has a handy crumb tray that can be removed for further cleaning care.
Where the Breville BOV800XL Smart Oven really shines is...
Its nine preset functions that allow you to really tune into the exact temperature you need to cook your food. This is enhanced by an easy to read backlit LCD display and the oven's Element IQ cooking technology that radiates heat above and below food.
You'll find this convection oven is ideal for anyone that is looking for additional cooking space or wants a convenient way to heat food without having to use the oven.
But, beware!
It is not PTFE or PFOA free.
Features:
9 preset functions
Backlit LCD display
1-year limited warranty
1800W
5 Quartz heating elements
22 lb.
Element IQ cooking technology
Stainless steel