Are you a professional remodeler that deals with a lot of trim work around doors, baseboards, and windows?
While most small air compressors can handle trim, the Bostich CAP1512-OF is built for it--making it one of our favorites.
The build quality of this compressor is what initially caught our eye, but before we talk about durability, let's take a look at the specifications.
The CAP1512-OF is rated to run at 1.5 HP and has a low amp motor to prevent breaker trips. It delivers 2.8 CFM at 90 PSI from the 1.2-gallon tank which has a maximum pressure of 120 PSI.
The compressor has more than enough power to fill up tires, fire nails or even fill up an inflatable hot tub.
Back to the build quality…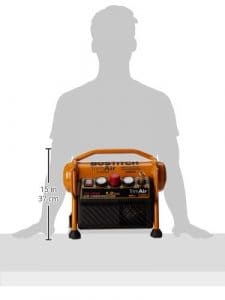 The Bostich CAP1512-OF is perfect for construction sites or remodeling jobs.
The roll cage prevents damage to the front panel if it happens to tip over while also giving you three handles to work with.
A plastic shroud covers the motor and helps protect the innards, and non-marring rubber feet help minimize vibrations while keeping floors scuff-free.
The design is fancy and functional. But we did find the placement of the cord wrap may throw you off as the cable is thick and bit stiff at first. You can find more out about the internals and parts in general through the user manual.
Features are another area that helps set this small compressor apart from the rest.
While you only have one coupling to work from, there are two gauges and a large power switch. There is also a "tool pouch" on the back that can hold a few attachments and a loop to help keep your hose in place when not in use.
You can't see these in any of the photos, but you can get a good look at them in the video below. You may also want to look into getting a tool bag to help you keep your accessories tidy.
We feel this compressor is more suited to pros than the average Joe that just needs something for projects in the garage.
While the tank isn't the largest, the recovery time is quick, and there's plenty of horsepower.
On the downside…
There's only one output so you can't hook up two nailers at a time.
The Bostitch CAP1512-OF comes with a 1-year warranty, but no extras. If you need hose or accessories, this kit from WYNNsky is an affordable option to get you started.
Features
Oil-free pump
Low amp motor
120 max PSI
1.5 HP (running)