Ranking in at number seven is the first Bostitch product we recommend. This is a classical style pencil sharpener with several features that make it a cut above.
The price tag with this pencil sharpener is on the higher side of the units we've considered thus far. This is largely due to the little bonus features it has to offer that we don't see with other sharpeners.
For example: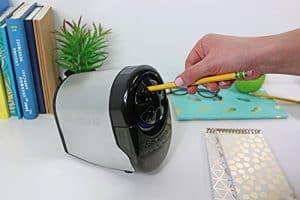 This pencil sharpener features SharpGlow illumination technology. This is a visual indicator that sharpening is complete and helps reduce waste. I can see this being particularly helpful in a classroom because a visual indicator can be great to teach kids when "enough is enough" during pencil sharpening.
It also has auto-stop features to prevent problems with jamming or pencil waste.
For cleaning purposes, this Bostitch unit has an easy, tool-free cutter cartridge making it easy to do maintenance safely and efficiently. It's colored pencil compatible as well, making it highly versatile for the classroom or for artists.
The most unique feature of this unit: 
This unit boasts a feature that none of the others on this list have advertised.
It has antimicrobial properties to prevent a buildup of mold or bacteria inside the machine. It is supposed to promote a cleaner classroom or office environment. I wish it had expounded more on how they make it antimicrobial since there was limited information on this process and how long it lasts with long-term usage.
Overall, this Bostitch unit is great for high-volume environments, specifically classrooms and offices. It's powerful for use over a long-lifetime and quiet enough to not disturb a quiet office or classroom environments.