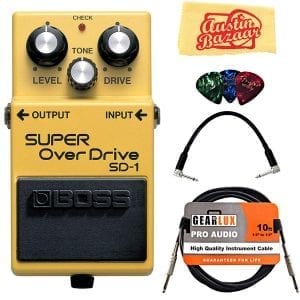 Even if you like a lot of distortion on your tone, the situation sometimes calls for an effect that's more subtle. The Super Overdrive from Boss lets you do both in one pedal. The overdrive is designed to emulate the tone of a classic tube amplifier and it does the job well, with a sound that's surprisingly full and warm.
Sadly, we had some issues with the build. Boss usually delivers impeccable construction, so we were a bit disappointed to find the connections felt a bit loose and the knobs slightly flimsy. It doesn't seem as rugged as you'd expect Boss pedals to be.
Despite these flaws, the sound of the DS-1 definitely makes it a great value at the price. It even comes with cables and a cloth (though, oddly, not a power adapter). The natural tone and low price make it a good choice for players on a budget.
Features:
Controls: Tone, Level, Drive
Dimensions: 9" X 4" X 6"
Weight: 2 pounds
Power: 9V battery or PSA-series AC adapter (not included)