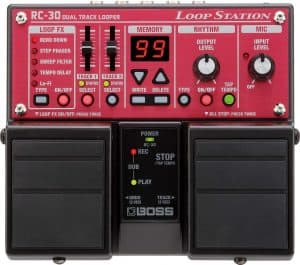 Compared to the other entry from Boss on this list, the RC-1, the RC-30 represents the exact opposite aesthetic. This is a massive pedal with a detailed array of controls, including knobs and faders to really fine-tune your loops. It's a bit much if you use loops mostly as an effect, but if you play electronica or other heavily processed styles, the RC-30 might be right up your alley.
The Boss RC-30 has two separate but synchronized stereo loop tracks. Each track has its own dedicated fader so you can adjust the relative levels. The RC-30 also has an array of different common effects that you can add to either or both tracks, including a phaser, sweep filter, and lo-fi filter. While it won't change the pitch of your loops when you alter the tempo, there is a bend down effect you can add if you want that analog slow-down sound.
It's true—you might need to spend some time with the RC-30 before you get a feel for everything it can do. There's a lot going on in this pedal. Once you start playing around with it, though, the flexibility of this pedal will really push your loop game to the next level.
Features:
Dimensions: 15" X 15" X 15"
Controls: Track faders, rhythm and mic level adjustment, type and track selectors
Recording time: 3 hours
Power: Battery or PSA-series AC adaptor (not included)