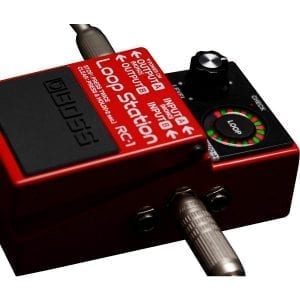 Simplicity is the name of the game when it comes to the Boss RC-1. It's both easy to use and easy to read, giving you the top-notch performance you'd expect from Boss in a straightforward and user-friendly package. It still gives you all the same options you need from a pro-level loop machine, you'll just get it in a package that's both super-accessible and super-affordable, making it an excellent option as a player's first looper.
The first thing you'll notice looking at the RC-1 is the 24-segment LED loop indicator beside the level control at the top of the display. This makes it easy for you to see the status of your pedal and which mode it's currently in. The clarity of this display is impressive, and indicative of the kinds of user-oriented features this pedal offers.
Boss has a lot of experience engineering loop pedals—they've been making them continuously since the RC-20 was first released in 2001. The RC-1 gives you the basics of a loop pedal, including overdub and loop undo/redo functions, with no extraneous frills to distract you from the looping itself. This streamlined design helps to make the Boss RC-1 a bit lower-powered, letting it get around 5 hours of continuous play on a single battery. Even if you do lose power, the pedal will retain your recorded lines in its memory.
You won't get any extra sound manipulation tools here, but as a straight-up looper, it's hard to beat. Our only complaint is that it didn't include a power source, although considering the low price, you'll be able to afford to buy one separately no problem.
Features:
Dimensions: 5.1" X 2.3" X 2.9"
Loop time: 12 minutes
Controls: Level
Power: 9V battery or PSA-series AC adapter (not included)